"Your order will be delivered today." 
How many times have you received this message and experienced a tiny bit of happiness since your product is finally arriving?
I guess a lot of time. Considering how regularly we use online shopping apps to get products delivered to our doorstep. 
But have you wondered what happens behind the scenes and the efforts it takes for companies to deliver your product on time? 
Almost every good you receive has gone through a literal journey. It is a result of intricate logistics planning and timely couriers and freight shipment. 
To understand logistics that play an essential role in global trade, you first need to understand the concept of freight shipping. 
This guide helps you understand what is freight, its types, things to consider when choosing a freight service provider, and everything in between. 
Let's go. 
What is Freight?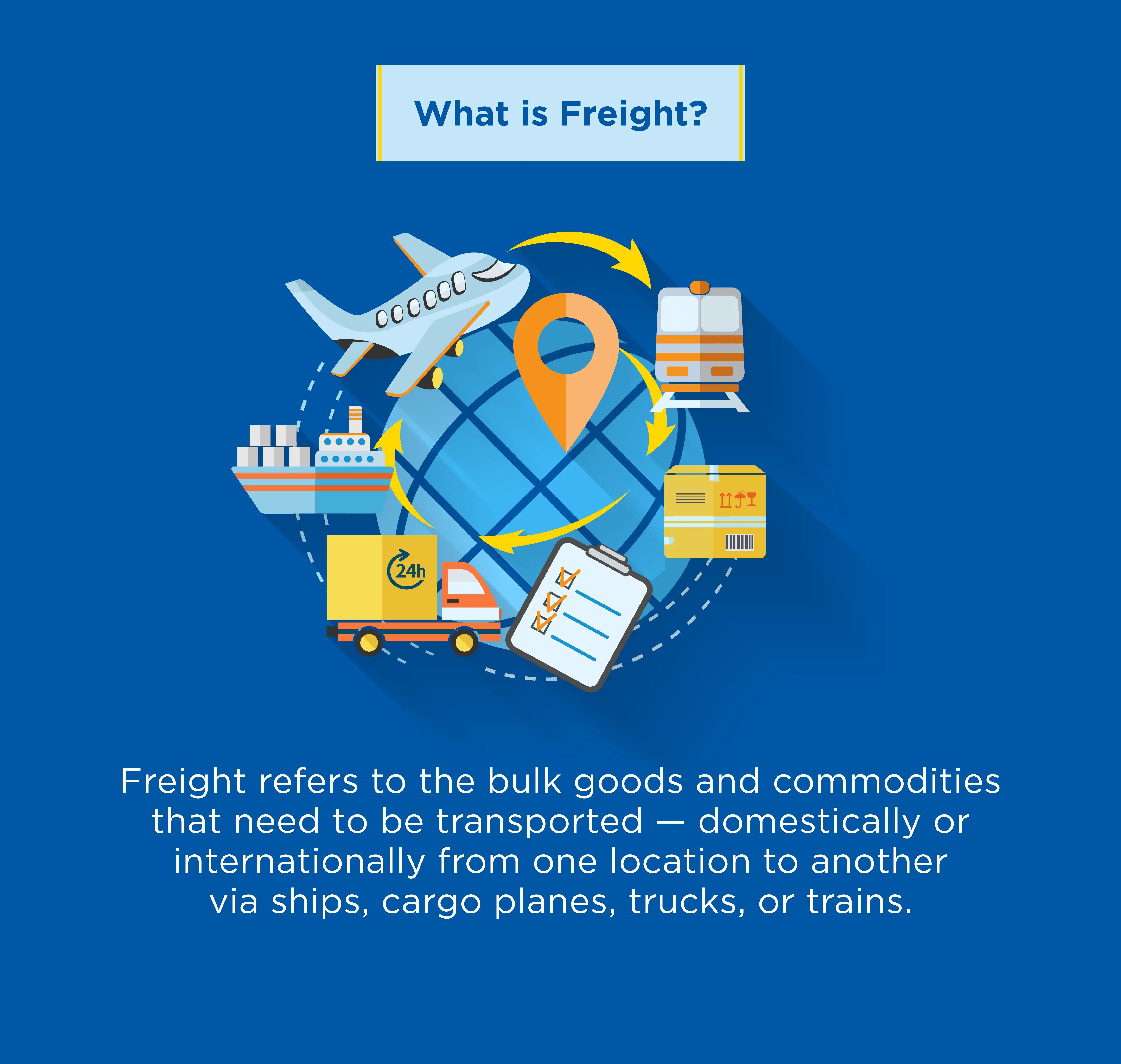 Freight refers to the bulk goods and commodities that need to be transported — domestically or internationally from one location to another via ships, cargo planes, trucks, or trains. 
Although it may seem similar to a parcel service, shipping feights is different because of the package size and volume. There are certain parameters for goods to be freighted such as:
They need to be more than 68 kgs (150 pounds)

2.74 metres (108 inches) long or 

Exceed 4.06 metres (160 inches) in length and girth
You can easily differentiate freight because they are transported on a pallet. Some examples of freight include furniture, construction supplies, cars, etc.
The History of Freight Shipping
Humans have innovated and developed a seamless transportation system that made its way into the current world. 
But, the existence of freight shipping dates back to the 1400s. It became more prominent in the 1700s, especially in Europe as countries started expanding their global empires. 
Back then, the goods were transported in wagons pulled by horses and carts. Even though water transport was prevalent, it was time-consuming since people used rafts and flatboats. 
It wasn't until the industrial revolution in the mid-20th century that the meaning of freight witnessed a shift. The industry saw a massive innovation drive because of the introduction of aircraft, steamboats, and trains. 
It was, for the first time in history, possible to deliver goods in days even internationally. Cargo ships became the top method for international shipping and have been ever since. 
Since then, freight transportation companies have looked for efficient, sustainable, and quick ways to deliver goods from one place to another. It has become convenient and seamless to deliver even the most fragile or voluminous goods, domestically and internationally. 
What Types of Businesses Need Freight Services?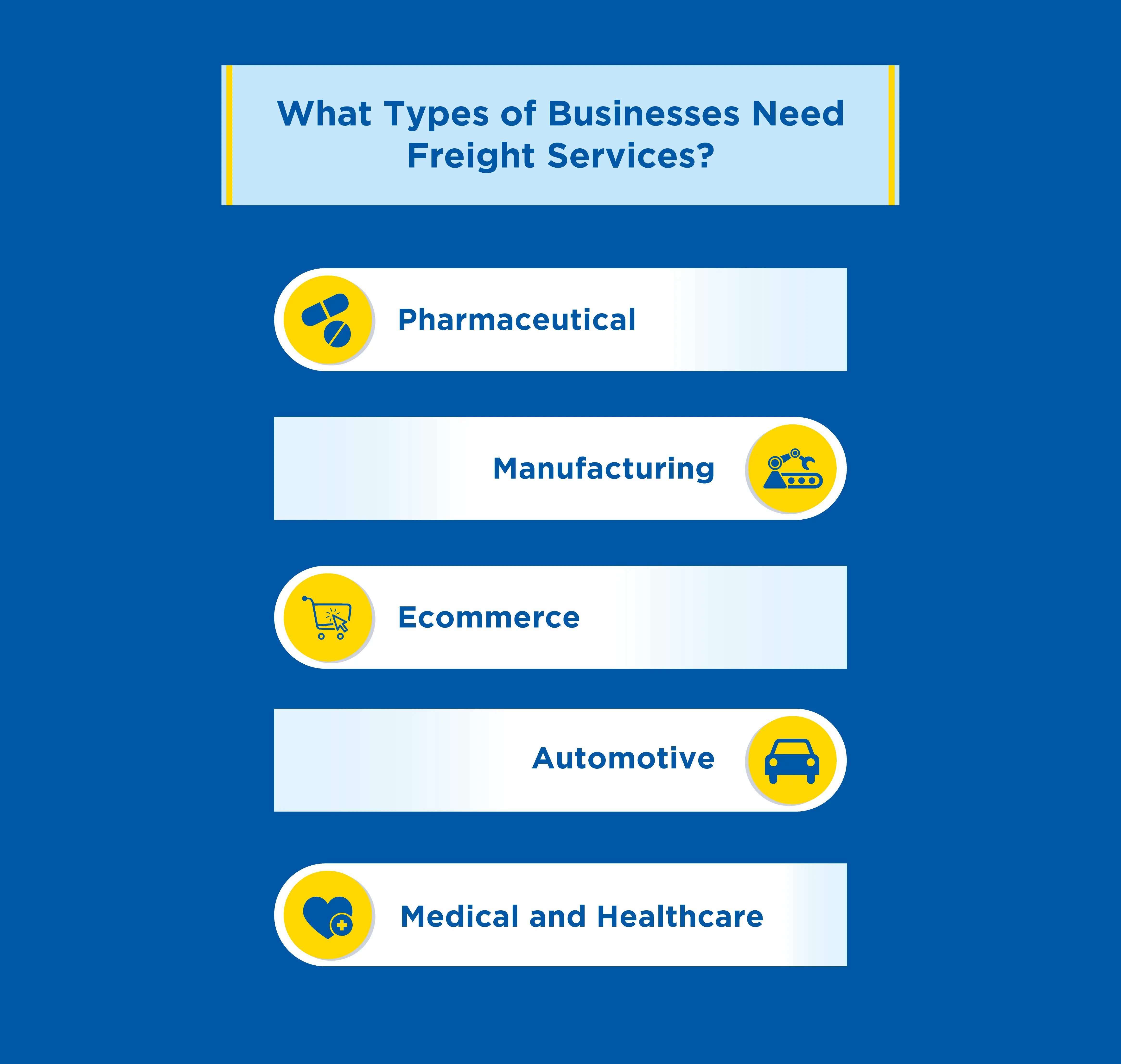 Freight service providers understand travel protocols. They transport the products keeping in mind the specificity that each type of product requires. 
Although several industries may at some point need freight services, there are five industries that stand out and leverage them more often. 
What are these industries?
a. Pharmaceutical 
Not every country has the production capacity to produce enough pharmaceuticals that meet their respective countries' demands. 
Naturally, pharmaceutical companies regularly rely on freight transportation to safely export their goods regionally and internationally. However, pharma companies are very particular about freight conditions. 
They have to be assured of the temperature control to ensure that the quality of medicines is maintained while they're in transit. Vaccines and insulin require a particular temperature while they're exported or else they can bear huge monetary losses.
Moreover, time is a valuable essence and most times medical and pharma products need to be delivered sooner than later. 
b. Manufacturing
A lot of manufacturing companies export their products. These include grains, clothes, personal care products, electronics, and other high-value goods. Manufacturing companies opt for freight shipments solutions to cut unnecessary costs that arise from missed delivery deadlines, non-optimal travel routes, risks of broken goods, etc. 
Professional freight service providers take into account extra measures to deliver the goods in one piece and leverage digital technology to optimize routes. Manufacturing companies need to trust freight providers who know how to best deliver their products from point A to point B. 
c. eCommerce 
Ecommerce is leveraging freight services ever since the proliferation of online shopping. ECommerce products range from perishable goods to cosmetics, toys, clothes, and more. Shipping is a critical part of the online shopping experience. 
Speed is crucial for eCommerce companies since customers have high expectations. To save on costs and ensure the best delivery routes, online stores plan their modes well in advance with freight shippers. 
d. Automotive
Automotive manufacturing units need materials from ancillary industries that are spread across different regions and states. Freight companies help vehicle manufacturers achieve increased efficiency in moving vehicles and components. 
Shipping automotive parts domestically require LTL or FTL freight services but if you're shipping internationally, automotive industries leverage air or ocean services. 
Just like how freight companies optimize routes for manufacturing and eCommerce, it does the same for the automotive industry to ensure cost-effectiveness. 
e. Medical and Healthcare
Medical supplies are a basic need and also need emergency delivery. Freight shipping providers ensure extra care and punctuality since the deliveries are essential for patient health and medical procedures.
Emergency medical supplies, specimens for lab testing, organs, or blood require professional freight services so that they're safely and timely delivered to their destination. 
Freight Shipping vs Freight Forwarding
If you've read enough materials about the freight industry chances are, you must've heard the terms freight shipping and freight forwarding. While both focus on delivering commercial cargo from one point to another and work closely together, it differs in how they function. 
Understand that these are two different concepts and knowing their differences will better help you understand the different entities in the freight industry. 
What is a Freight Forwarder?
A freight forwarder is a freight service organization that businesses and individuals hire for the shipment of their goods. 
They don't ship the cargo themselves but they are the primary link between the people shipping the goods and the client. 
Their goal is to make shipping easy and effortless for the shipper and act as a middle point between the freight shipper and the carrier.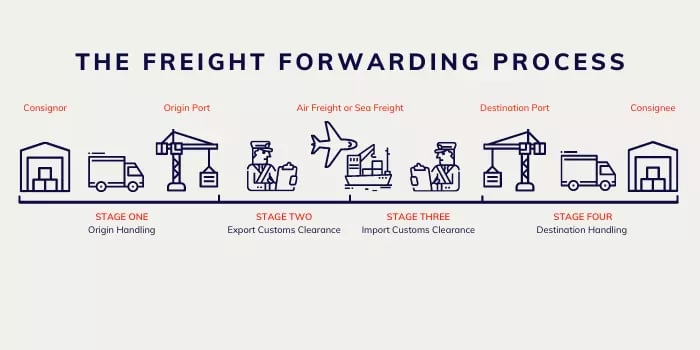 What is a Freight Shipper? 
A freight shipper or the shipping agent is the individual or an organization actually responsible for handling and transporting the goods. 
They're primarily responsible for handling customer shipments, clearing customers, dispatching cargo transportation, and crew transfers.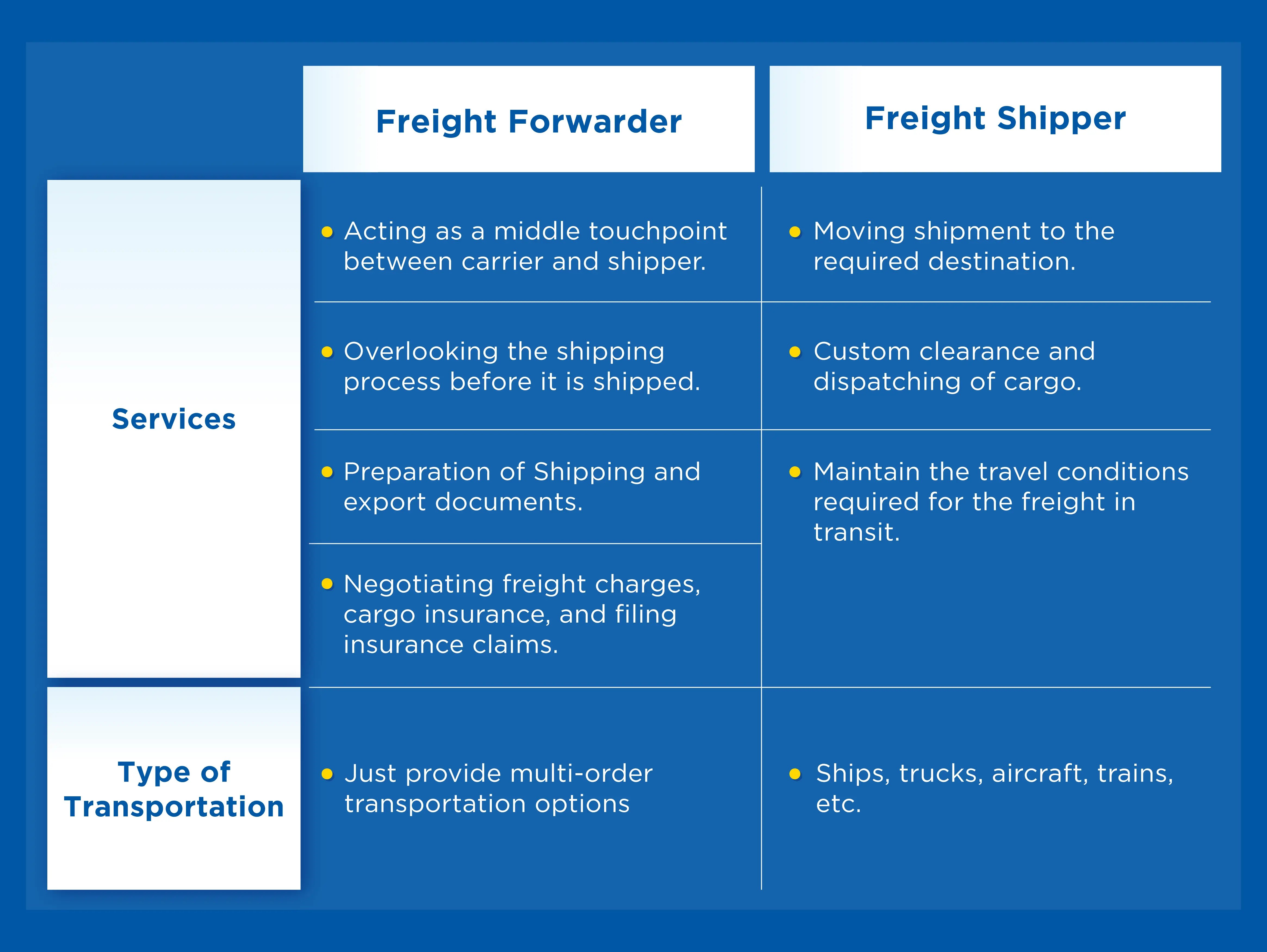 Freight Transportation Modes
If you rewind just a few decades back, logistics companies only had two freight transportation options which were cargo ships and road transports. Fast forward to today where we have a plethora of options that allow every individual, small and large businesses to transport any type of cargo, of any weight, at any time. 
Some of the top types of freight transportation modes are: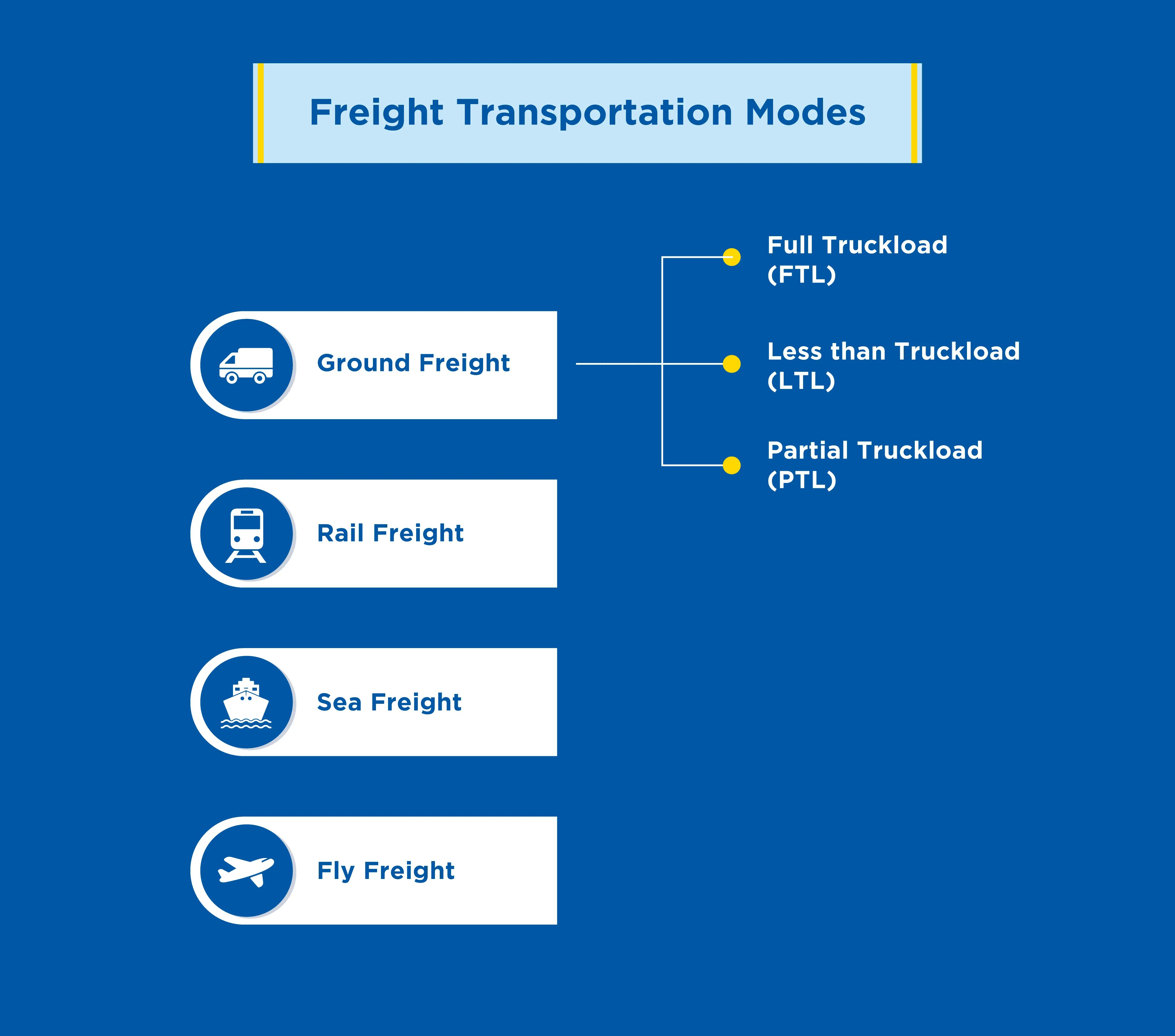 Ground Freight
Full Truckload (FTL)
If companies have to move goods in bulk, they usually opt for a full truckload. The freight shipping has to be above 6800 kgs (15,000 pounds) for it to qualify as a full truckload. At full capacity, the trucks don't have to make any stops since they don't have to unload and reload other products in transit.  
Less than Truckload (LTL)
Small businesses and individuals normally don't have enough freight shipments or money to opt for a full truckload. Instead, they leverage Less than Truckload (LTL) transportation where they only pay for the space they use. 
It's a cheaper and more convenient way to move fewer goods from one place to another. LTL freight is ideal for shipments ranging from 68 to 6800 kgs (150 to 15,000 pounds). 
Partial Truckload (PTL)
Partial truckload is like LTL where companies only use partial space in the truck. But, the shipment sizes are usually larger than LTL (above 2268 kgs or 5000 pounds).
The trucks split the spaces with a few other suppliers. This way, it doesn't have to make many stops like LTL and reaches the destination faster. 
Rail Freight
Trains provide the space and speed advantage. It can move large and heavy goods and bring them closer to the final destination before they're loaded onto a truck for last-mile delivery. 
Sea Freight
Sea has been a popular method of transportation for ages and remains today when it comes to international shipping. They are cost-effective and can cover any route across the globe. But companies keep a buffer period of days or weeks since sea freight takes its time to deliver the goods. 
Air Freight
Since cargo planes are the fastest mode of transport, they're consistently used by companies to transport their goods to different destinations. But with good speed comes high expenses. Hence, air freight is perfect for companies that usually have to deliver goods in a short time and on an urgent basis.
Intermodal Freight
It's not necessary to stick to a single mode of transport in logistics. Intermodal or using multiple modes of transport is a common practice in logistics to make the best use of available vehicles. It helps companies save costs while also considering speedy delivery. 
Elements that Influence Freight Shipping Costs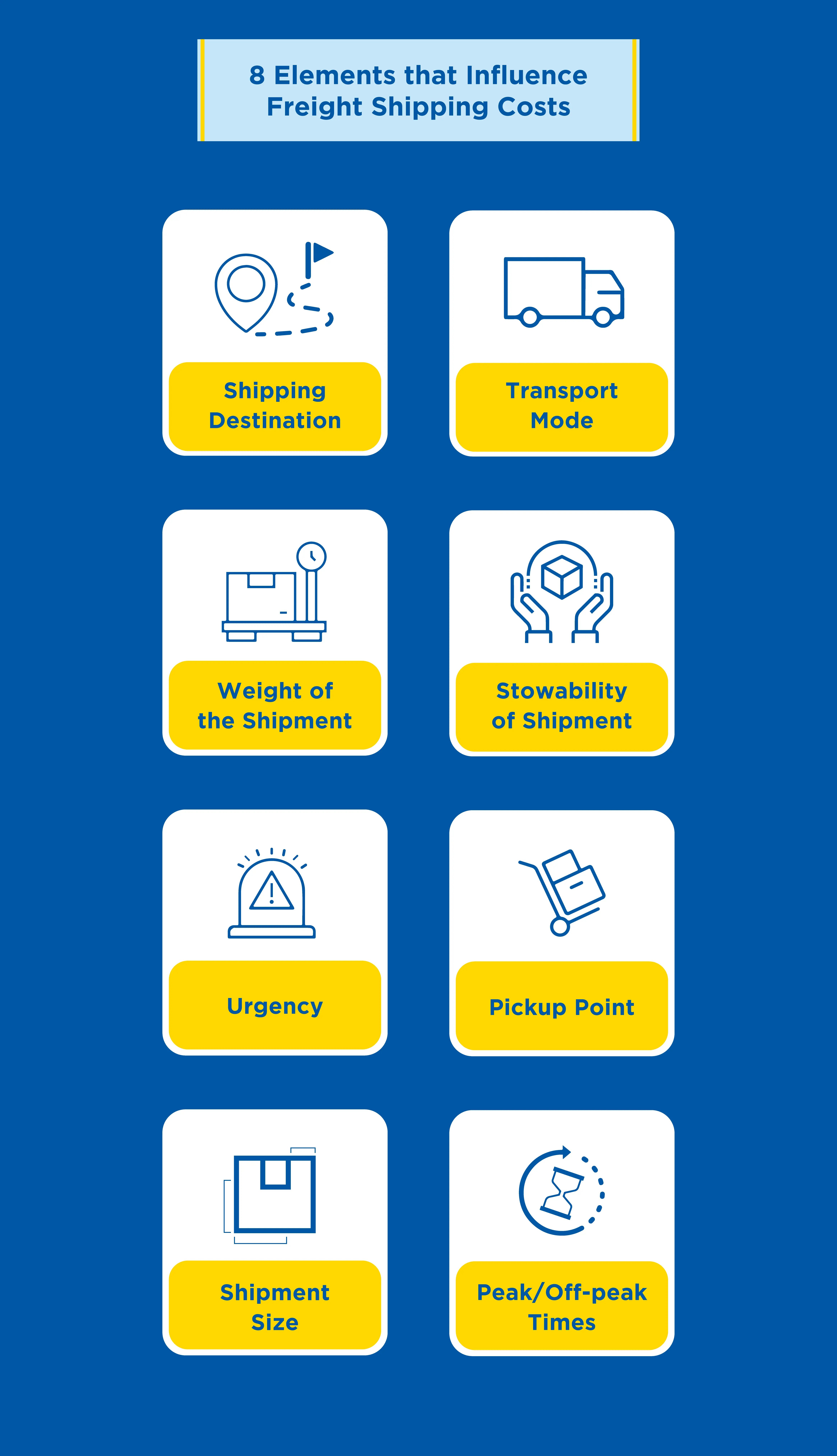 At some point, you'd surely wonder how much costs you should consider before opting for any freight services. 
But since freight is such a vast industry, there's not just a single answer to "what is the freight cost?" 
The supply chain experienced a crisis during the pandemic. Even though the rates are stabilizing, on some lanes, the prices are still 400% higher than they were pre-pandemic. 
In the current scenario, the rate largely depends on a numerous number of factors that contribute to the overall pricing. Check out some of the top factors that'll help you calculate shipping costs the right way. 
Shipping Destination
First of all, where you're delivering your goods will influence your rates. You can move them domestically or internationally, with the latter being more expensive. Even within the domestic territory, if the destination is far off, the domestic freight rates will be higher. 
And these rates will never be fixed since fuel costs play a prominent role in defining the cost structure of freight companies. 
Weight of the Shipment
While light goods can easily be moved from docks into freight vehicles, heavy goods require additional machinery and equipment like pallets and forklifts. 
Freight service providers not only have to be well-equipped but also need to train freight handlers to use these types of equipment for loading and unloading heavy materials. Eventually, all of this will be reflected in the final freight rate. 
Urgency
Some products are needed faster than others. As we talked about before, medical supplies and pharmaceuticals are often-times delivered on an urgent basis. Even then, timely deliveries are never guaranteed in logistics due to a lot of natural uncertainties. 
You can pay a higher price for low-risk and quick deliveries. And if you're flexible with the delivery dates, you can expect a lenient freight rate. 
Shipment Size
Along with weight, size also helps in identifying the freight class. The dimensions allow shippers to determine the space that the goods will occupy and how easy it will be to handle the same. Factors like the length and breadth of the pallet will help freight providers adjust the rate accordingly. 
Transport Mode
Since air cargo hastens the delivery process and covers large distances in a short time, it usually is the most expensive option. Sea freight is usually the cheapest option followed by railways, trucks, and airways. 
Stowability of Shipment
You may not have control over the weight of the goods but you do have control over how they are packaged and adjusted into the cargo. If you select a perfectly fitted packaging material, not only do you save costs but also cut the risk of cargo damage during transit. 
Pickup Point
The further the pick-up point from the original pick-up site or the fulfilment centre, the higher the shipping cost. Ask yourself, how close is the carrier's nearest location and is it close enough to other businesses' pick points as well? 
The freight charges are influenced by the delivery's geographic location, mode of conveyance, and capacity. However, an experienced 3PL (third-party logistics) usually helps in determining an optimal strategy for reducing distance-related costs.  
Peak/Off-peak Times
A lot of external factors come into play in logistics. Weather conditions, demand, and supply, off-season and on-season, etc. All of these factors will eventually influence the price you pay for shipping. 
What Should you Consider while Choosing a Freight Shipping Company?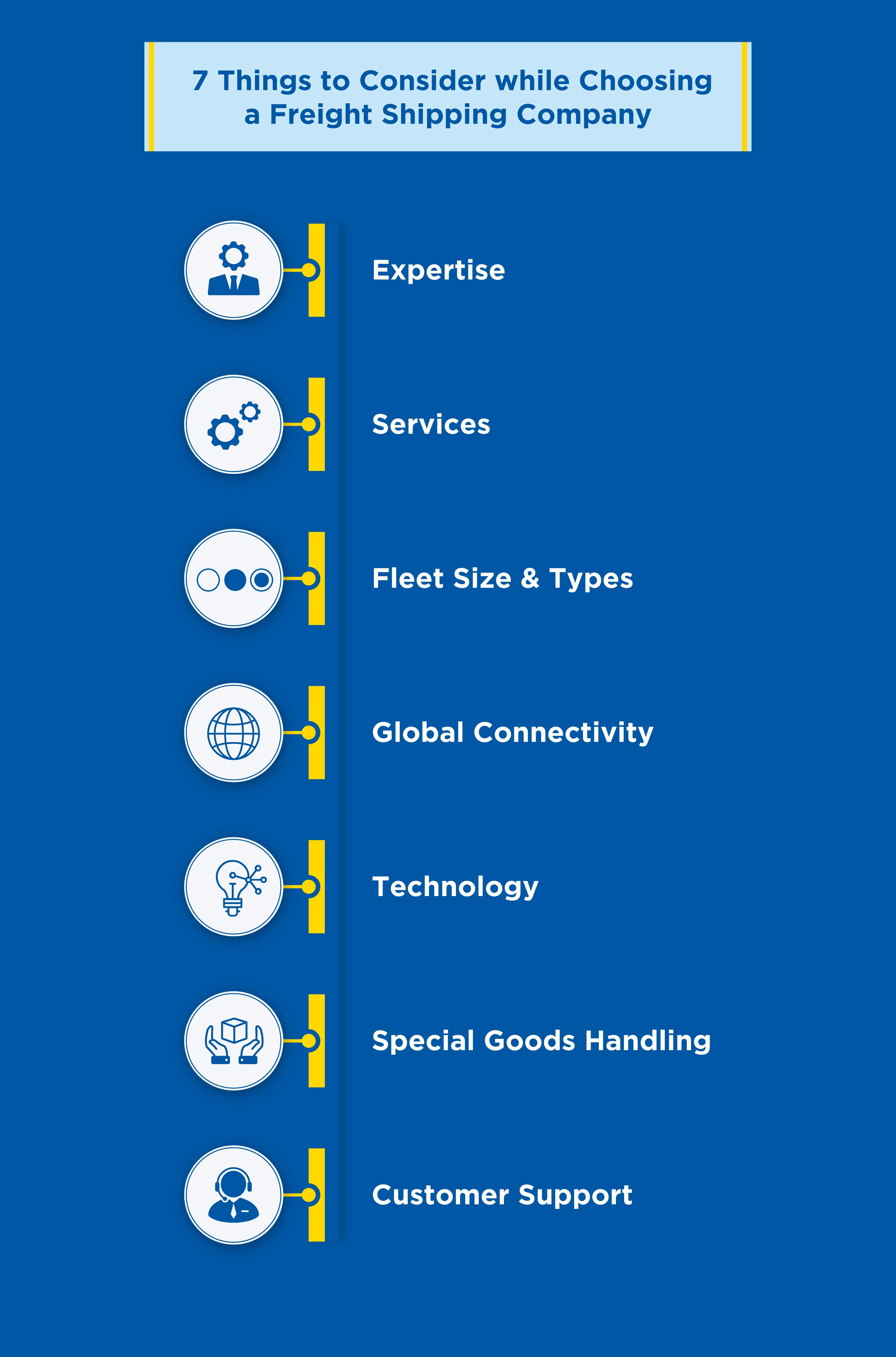 Apart from pricing, you'll also need to pay heed to multiple factors if you have to choose a freight shipping company. You need to check if your chosen freight carrier facility can accommodate your logistics requirements. 
Logistics plays a core value in your customer experience. To successfully deliver the products, you have to take into account factors that ultimately help you provide an exceptional delivery experience to your customers. 
So what are the factors you need to consider while choosing a freight shipping company?
Expertise
Logistics is a volatile industry. You want to choose a freight provider that knows how to safely deliver goods from one point to another at minimum risks. 
You can only be assured through experience that the company knows how to:
Handle tough routes, 

Deliver at the earliest possible, 

Knows what is the best time to travel, and 

Knows what would be the best method to transport the goods
Experienced freight service providers also know their way around the customs, warehousing, possible reroutes, and port shutdowns. 
These issues are frequently prevalent in domestic and international shipping and your freight provider needs to know how to handle these situations so that your goods arrive safely. 
Services 
Different companies will have different freight requirements. A local eCommerce company will need optimized inventory management and road freight services like LTL and FTL. 
Similarly, a multinational furniture manufacturing company would require services like customs clearance, preparing the required documents for import and export, packaging services, etc. 
The type of services you need would depend on what your product is, in what conditions it needs to be shipped, where it has to be shipped, etc. 
So it's ideal to list your requirements for the freight first and then proceed with choosing the freight service provider that aligns with your supply chain objectives. 
Some of the services you can look out for are:
Booking cargo space

Insurance

Negotiating freight charges

Tracking freight 

Packaging and storage 

Custom clearance

Freight consolidation

Documents assistance
Fleet Size & Types

 
Does the freight provider have the type of transport you're looking for? Does it offer multiple modes of transport? Does it handle large packages?
It's important that the freight company has a variety of freight shipment methods since a lot of brands opt for an intermodal type of transport where they leverage more than one method of transportation. 
You need to choose a freight partner that specializes in the modes that you'll rely on most. 
Global Connectivity
Since logistics play an important role in global trade, freight companies need to have an established network globally. If you're shipping internationally, your chosen company needs to know the dynamics of overseas cargo shipping. 
They need to have connections with the respective parties, know how to conduct business with them, and have knowledge of the customs rules and regulations of shipping in different countries. 
The import and export of goods become smooth if the freight forwarding company has an established network and can ship cargo from any corner of the world. It will also help in custom clearance, negotiations, and safely delivering the goods to their destination. 
Technology
Modern freight companies are equipped with state-of-art technology that assists them in warehouse and dock management, loading and unloading freight, optimising inventories, etc. It is essential that the freight forwarding company leverage new technologies to streamline processes and maximize efficiencies. 
Ask your potential service provider for their software capabilities. Technology-equipped companies use real-time data to make accurate predictions and optimise routes that ultimately save costs. 
Special Goods Handling
Certain products like perishables, glass items, and vintage products, need the companies to have experience in special goods handling. 
You need to check if the provider has the right packaging requirements, meets the quality standards, has the ability to transport vehicles in particular temperatures, etc. Your freight provider needs to be aware of all the specifications and have the correct procedures in place. 
Customer Support
The freight provider doesn't just have to be an expert at what they do but also knows how to handle their customers. 
They should be able to communicate in advance of any changes in the schedules, educate you about the entire process, and have tracking services so you're in the loop of when the goods are in transit. 
An ideal practice would be to check their reviews and history. A trustworthy freight service provider will establish a smooth line of communication as they're serving you. 
Freight Shipping Made Easy with PACK & SEND
Logistics is one of the primary reasons why your business offering is a success. But it's hard to juggle it all—offer timely deliveries, aim for cost-effectiveness, choose the right mode of transport, optimize routes, and the list goes on. 
Your one-shot solution is to choose a reliable freight service provider like PACK & SEND that knows the industry in and out and can help you establish seamless logistics across many destinations at reasonable prices. 
Whether you've established a new eCommerce business or are planning to expand your manufacturing exports to new destinations, you can get in touch with us at PACK & SEND and we can guide you through your logistics plan. 
With years of experience in the freight forwarding industry, you can rely on us to fulfil your shipment requirements that best suit your needs. 
Frequently Asked Questions (FAQs)
What is a freight carrier?
Freight carriers are companies that physically transport or 'carry' the goods/freight on behalf of shippers. They are responsible for picking up, transiting, and delivering the goods to the right destination. The majority of the time, they differ from freight forwarders—the ones that manage the shipment on behalf of the shipper. 
What are freight forwarding services?
Freight forwarding services are companies that act as an intermediary between the company shipping the goods and the logistics companies that deliver the freight. They don't move the freight themselves but move the shipment to the required destination or dock. 
What is freight insurance?
Freight insurance is basically insuring the freight while they're in transit. It is a policy that provides partial or total protection against losses incurred by the cargo while it's delivering the goods. 
A lot of things can go wrong in freight shipping. Your cargo might get damaged due to errors in loading and unloading, fires, theft, accidents, or weather conditions. In such conditions, freight insurance helps in recovering such losses. 
What is freight brokerage?
The purpose of freight brokerage is to organise orders and pass them on to freight carriers. The brokers connect shippers and carriers while also overseeing the movement of freight. They don't go as far as freight forwarders as their role is limited to arranging the shipping of freight for their customers. 
What is freight out?
Freight out is considered the cost of moving products away from the shipper to a customer. When the seller handles the shipping costs, they regard it as a delivery expense rather than an operating expense since the delivery costs are specifically associated with selling. 

Image Sources: Think Global Logistics