Packaging Guidelines & Standards
We know you want to get your goods delivered safely to their destination in the same condition it was sent. When using our Online Self-Service you need to do your part by reviewing our packaging guidelines and standards - this will not only reduce the risk of damage to your goods but also minimise the risk of delay.
If you choose to have Freight plus Warranty as part of your Online Self-Service, you should note that our warranty only applies to goods that are properly packaged to protect them against the normal risks of damage in the express courier distribution environment. This means your goods need to be packaged using boxes, cushioning, tape/sealing and labelling that is to an acceptable standard as outlined in the table below.
1. Boxes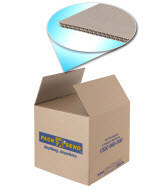 Acceptable Standard
You should use a new box. If you are reusing a box, it needs to be rigid and in excellent condition.
Use heavy duty double-layered board wherever possible and definitely for any items weighing over 12kg.
Goods fully enclosed in a protective packing case made of timber or aluminium is acceptable.
An original manufacturer's box in excellent condition that was designed for the goods is acceptable.
Not Accepted
PACK & SEND does not accept for transport 'outer containers' that are either a bag made of fabric/cloth or a corrugated box with punctures, tears, rips, corner damage or miscellaneous boxes from a supermarket.
Plastic boxes or storage tubs are unacceptable for use as an outer box or shipping container. Plastic containers are too brittle to withstand the rigours of automated parcel sortation systems.
Guidelines
When selecting a box, consider its strength and durability for carrying the weight and size of the item.
Select a box that is large enough to accommodate the proper thickness of the cushioning material.
Do not overload the carton and make it too heavy. It is better to break down your consignment to two or more cartons than have one very heavy carton.
2. Internal Cushioning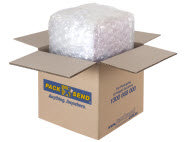 Acceptable Standard
Each item inside your package needs to be wrapped in bubble wrap or foam wrap.
To fill any voids that may be in the box use polystyrene "peanuts" (void/loose fill) or crushed packing paper (removalist quality).
Goods packed in foam enclosures (e.g. polystyrene) used in the original manufacturers packaging is acceptable cushioning if the original manufacturers carton is also used.
Goods packed with Foam-in-Place are acceptable. Click here for more information.
Each item should be surrounded by at least 5 cm of cushioning and be placed at least 5 cm away from the walls of the box.
Not Accepted
Unacceptable cushioning material for protecting your goods includes clothing, blankets, towels, newspaper/newsprint, shredded paper and pillows.
Guidelines
Items should be separated from each other, and from the corners, sides, top, and bottom of the box.
Ensure the contents do not move when you shake the container.
If you are sending sharp edged items of any kind, ensure the edges and points are fully protected. Heavy cardboard is suitable for this.
3. Taping & Sealing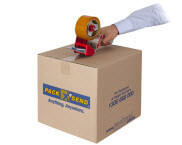 Acceptable Standard
Where the outer container is a corrugated carton the closure must be sealed with 48mm pressure-sensitive plastic packaging tape.
You should apply three strips of 48mm packaging tape to both the top and bottom flaps of the box.
Not Accepted
Do not use masking tape, cellophane tape, scotch tape, sticky tape, duct tape, string, or paper over-wrap.
4. Labelling & Preparing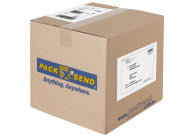 Acceptable Standard
Print the labels generated through our Online Self-Service and tape them securely to your parcels.
You must place the consignment note/address label on the top of the package. Do not place the label over a seam or closure or on top of sealing tape.
You must remove or cross out old bar-coded labels and address labels on a used box.
Not Accepted
Any parcel with the consignment note/address label not securely taped to the parcel.
Guidelines
Do not consider "Fragile" and "Handle with Care" labels as a substitute for careful and proper packaging. They are a good idea for information purposes only.
It is also recommended that you place a duplicate label or other form of identification with your phone number inside the package in the event your consignment note/address label comes off the container in transit.