3PL, FBA, or Shopify Fulfilment: What and How to Choose for Your Ecommerce Business?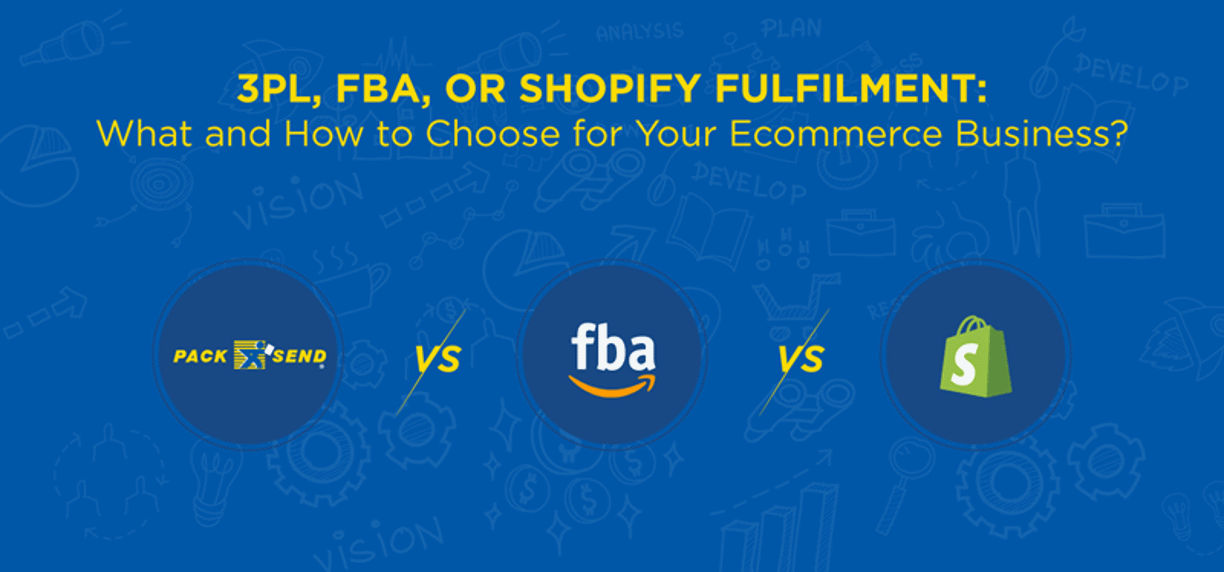 Fulfilment solution is an undermined yet fundamental aspect to build a sustainable ecommerce business.
Even if you are a multi-million dollar brand, and your products are unparalleled in the market, if you cannot find a reliable and efficient way to deliver those products, your ecommerce sales are unlikely to thrive.
People often fail to pay attention to the post-purchase experience, especially to product fulfilment procedures. No matter how well you promote your brand and showcase product reviews to impress prospective buyers, your success ultimately boils down to how well you deliver those products and the post-purchase customer experience.
Sales and marketing is the front end of your ecommerce business and fulfilling orders fall into the backend of your business. As an ecommerce brand, you must take care of both ends to grow your business.
For example, if the customer does not receive professionally packed parcels, or receives them too late, your brand image will take a major hit.
But building an in-house fulfilment service is tough. That's where a fulfilment service helps.
But before we dive deep into choosing the right fulfilment solutions provider, let's have an overview of what a fulfilment service is.
What is a fulfilment service?
Fulfilment is essentially the process of picking, packing, shipping, and delivering products. A fulfilment service is a third-party warehouse that prepares and ships your orders for you. Using a fulfilment service is a good idea if you don't want to deal with shipping yourself, or if you've outgrown your existing logistics capabilities to a point where you can't ship items yourself anymore.
In this post, we're going to discuss which type of fulfilment solution you should go with. 
We will discuss and compare three major types of fulfilment providers—3PL (third-party logistics), FBA (fulfilment by Amazon), and Shopify fulfilment. We will understand what they do, their pros and cons, followed by what to look for in your ideal fulfilment partner. 
Let's begin.
3PL
3PL stands for third-party logistics where an independent entity, like PACK & SEND, will take care of shipping and handling of the products. 
3PL is different from dropshipping. In dropshipping, your job is only to market the products and bring in orders, while the partnering vendor takes care of production, packaging, and shipping of the same as and when the orders come in. This is suitable for businesses that don't actually own the product line and just act as an advertiser, labelling the products as their own and receiving their compensation for the "referral" as part of each sale.
3PL takes a bigger approach. 3PL is where you partner with an independent organization to outsource storing, warehousing, packaging, and distribution of your brand's products.
With 3PL you get extensive possibilities—a more flexible, responsive, and comprehensive logistics solution
You don't have to buy a huge warehouse to store goods. The 3PL will give you options to rent the storage space.
You get other add-ons like fast delivery, on-demand warehouse space extension, custom packaging, insertion of branding materials, dedicated support agent, flexible pricing options, and more. 
Most importantly, a good 3PL provider will improve your order fulfilment with technical capabilities. For example, you will get a separate dashboard where you can manage your goods, track inventory, monitor orders, and scale your businesses by integrating other sales channels like Amazon, WooCommerce, Shopify, etc. 
At PACK & SEND, we provide a user-friendly and comprehensive fulfilment technology to streamline fulfilment procedures. We also offer other helpful features to our customers, which I'll mention as we move along in the article.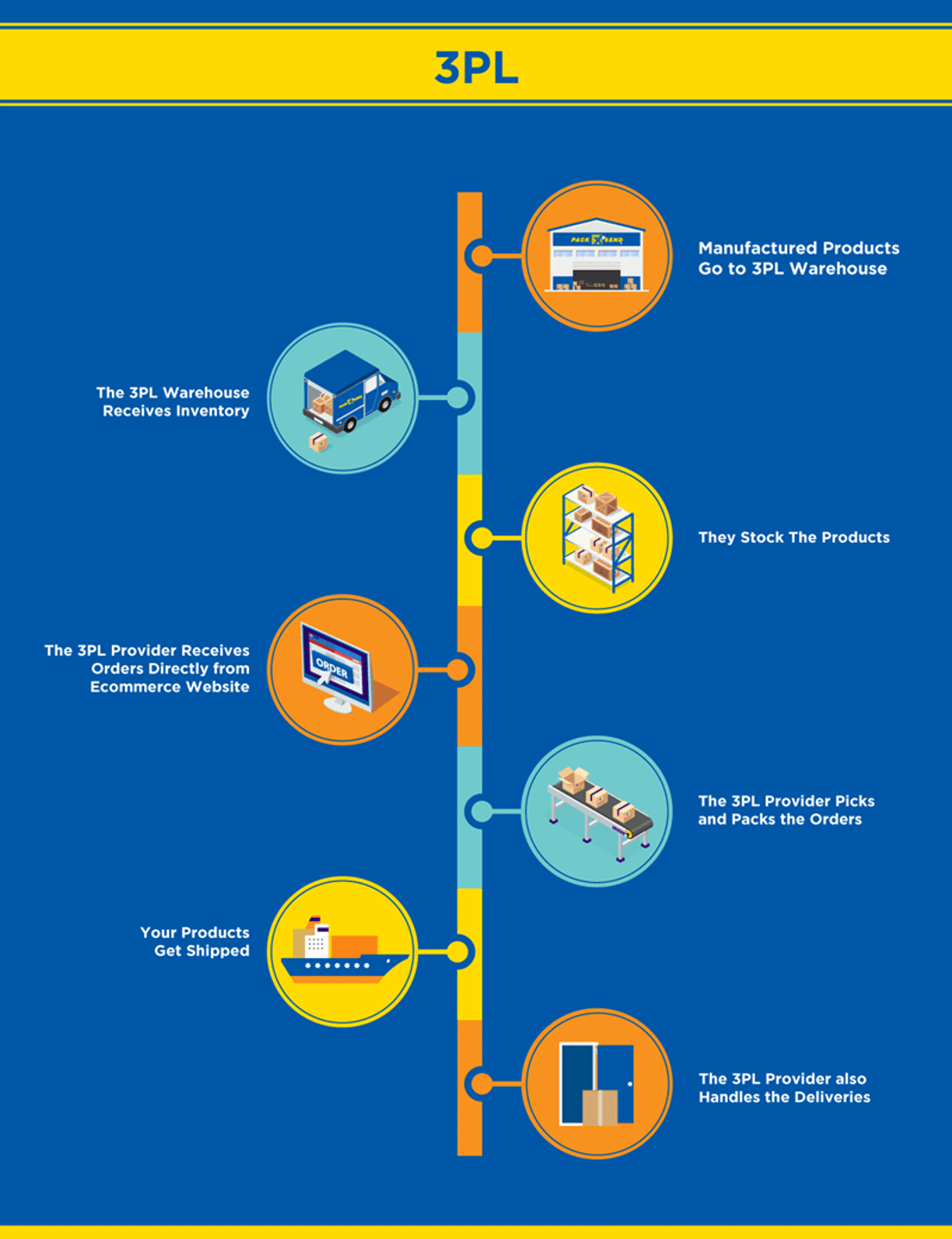 Pros and Cons of Using a 3PL 
Pros 
3PL takes care of tedious tasks like warehousing, packing, and shipping
You get experts to do the job
You can have more flexibility with a 3PL provider
Order-tracking becomes easy thanks to tech support from a 3PL partner
Freight and packaging solutions go on auto-pilot 
It's an affordable investment for the long-term 
Cons 
Might have to pay upfront cost depending on which 3PL provider you go with
An unprofessional 3PL provider will result in a bad customer experience 
Unless you work with a fulfilment service like PACK & SEND that has no minimum requirements, 3PL is not feasible for medium and small businesses as they usually can't meet the threshold set by the 3PL providers.
FBA
Fulfilment by Amazon (FBA) is a service through which Amazon, the biggest global ecommerce platform, takes care of warehousing, packaging, and shipping of your products.
FBA was launched in Australia only at the end of Feb 2018. It already had a 33% adoption rate when compared to other best marketplace sellers by the year-end.
With FBA, Amazon will store your products at their fulfilment centres. You can sell to millions of customers of Amazon and increase your brand's reach in the market.
As Amazon is an established company, FBA is considered to be a reliable shipping and warehousing solution.
Qualified FBA listings are displayed with the Amazon Prime logo which will improve your brand image and overall sales. In 2018, Amazon observed that Prime members spent around $1,400 on Amazon and non-Prime members spent $600. So, thanks to the spending habits of Prime members, getting on FBA will improve your sales.
Plus, Amazon also takes care of customer support. If something goes wrong with the order, customers won't come asking you. They will talk to Amazon customer support staff to resolve the issue.
Amazon FBA supports multichannel sales and you can also fulfil orders that come out of the Amazon platform. If you have a Magento, Shopify, WooCommerce, or 3D Cart store, you can still leverage FBA.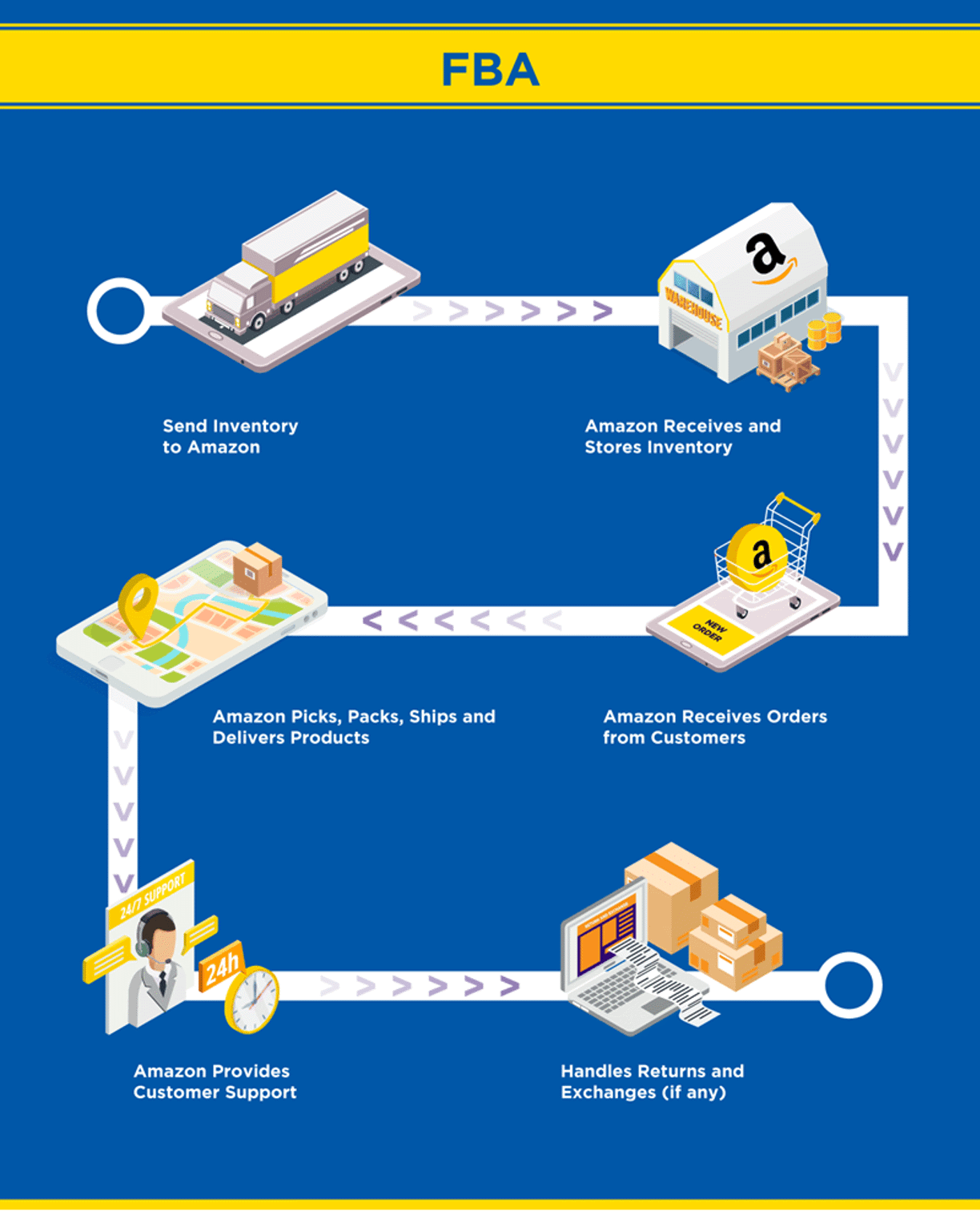 Pros and Cons of FBA
Pros
You partner up with the biggest fulfilment centre chain in the world
You get reliable packaging and delivery speeds
You can leverage Prime for super-fast delivery options
FBA also works with sales channels outside of Amazon
Cons
Less flexibility and personalization options
Have to bear storing and packaging costs that vary depending on the market's situation
You can't have custom branding on the packaging
Complicated fee structure
Might not be an affordable investment in the long run
Amazon has the right to decide the number of products it wants to store
Amazon practices the First In, First Out (FIFO) approach, so you may not be able to handle priority deliveries easily.
Shopify Fulfilment
Shopify fulfilment is only for Shopify store owners. So your ecommerce store needs to be hosted on Shopify. Signing up for Shopify fulfilment lets the company handle your warehousing, picking, packaging, handling, and shipping of your products.
With this fulfilment solution, you have to send your products to Shopify warehouses who will then take charge of the rest of the process. They have a dedicated admin panel that lets you manage your inventory and storage facility.
Shopify runs a calculation in its dashboard to suggest the fulfilment centres based on your business needs. They analyze which centre is nearer to your target customers so you can provide a quicker and better delivery experience.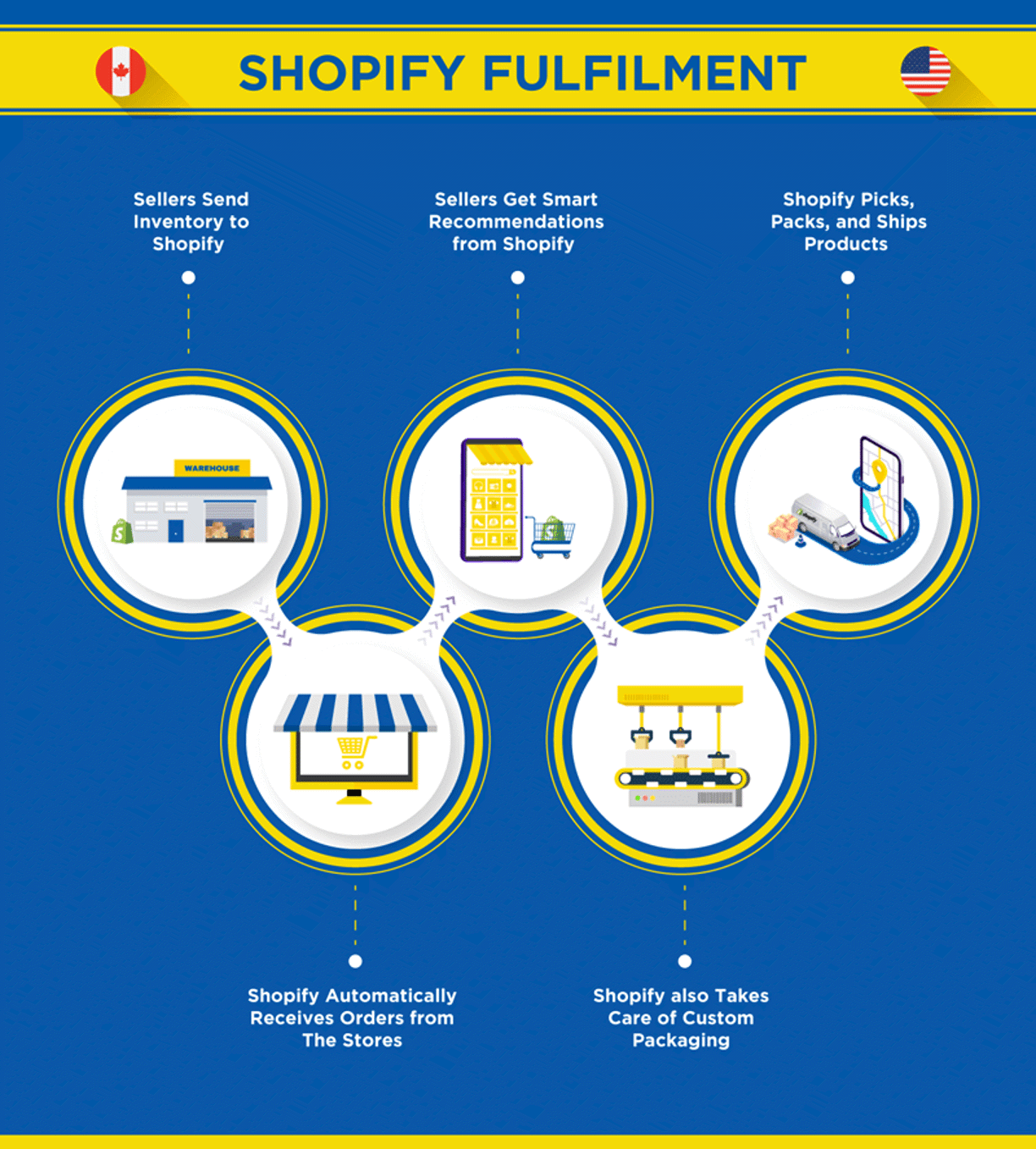 Pros and Cons of Shopify Fulfilment
Pros
You get a dependable product delivery system
Shopify provides a neat admin panel to manage your orders
Easy pricing options to make the process affordable
You get a dedicated customer service representative

Cons
Shopify fulfilment is only available in the USA and Canada
Only Shopify store owners can use this service
Does not integrate with other channels like WooCommerce, Amazon, etc.
How to Choose a fulfilment Solution?
All of the above options are impressive. You need to evaluate certain parameters to determine which solution is the most suitable for your ecommerce business.
As already discussed, your fulfilment partner will impact your brand image, so choosing the right type of fulfilment solution is crucial for your ecommerce business.
Here are the top parameters to evaluate which fulfilment solution is suitable for you.
Delivery Time

This is one of the most important aspects to consider when choosing the fulfilment partner for your ecommerce business.

40% of buyers say they are ready to wait for products to deliver within two days, and only 21% say they can wait for 3-4 days. The drop in percentage indicates that people don't just want but expect quick delivery.

So your delivery speeds directly impact your online sales.

Faster delivery makes customers think that the brand is agile and very efficient in fulfilling products.

So, you must verify if the potential service provider has the infrastructure and process in place to quickly pick, pack, and ship your products to customer's doorsteps.

If not, your customers may get late deliveries which can make them reluctant to purchase from you again.


Avoid Going with An Entity with Mandatory Guidelines

Many 3PL providers create a set of rules that ecommerce entrepreneurs have to meet to utilize the fulfilment services. This can include things like having a minimum number of orders a month, overall company size, product dimensions, number of packages in a week, and so on.

With these rules, many small businesses either cannot use the service as they don't meet the threshold or have to pay a premium.

Even Amazon's FBA charges vary depending on the type of products and size of the operations.

Therefore, make sure the service provider you choose gives you complete flexibility.

At PACK & SEND, we have no minimums. Businesses of any size can leverage our solutions and scale their operations easily. For us, every order and each client is of equal importance.


The proximity of the fulfilment Center

The centre's location directly impacts the speed of delivery, shopping experience, customer support, and more.

If you are shipping from Canada, then you cannot expect your customers living in Sydney to receive packages in two days. So you need to find a fulfilment partner that has a fulfilment centre nearer to your customer's location.

As per a report, 24% of customers said they would abandon the cart if the estimated delivery time is longer than they are willing to wait for.
(Source)

Even in the case of returns and exchange, the nearer fulfilment centres can entertain returns and exchange requests quickly.

Therefore, before you choose any of the three discussed above, check how close their fulfilment centres are to your target audience.

If the fulfilment centre is far, the overall cost of shipping, handling, taxes, and delivery will also increase. And people tend to abandon carts if the shipping costs are high.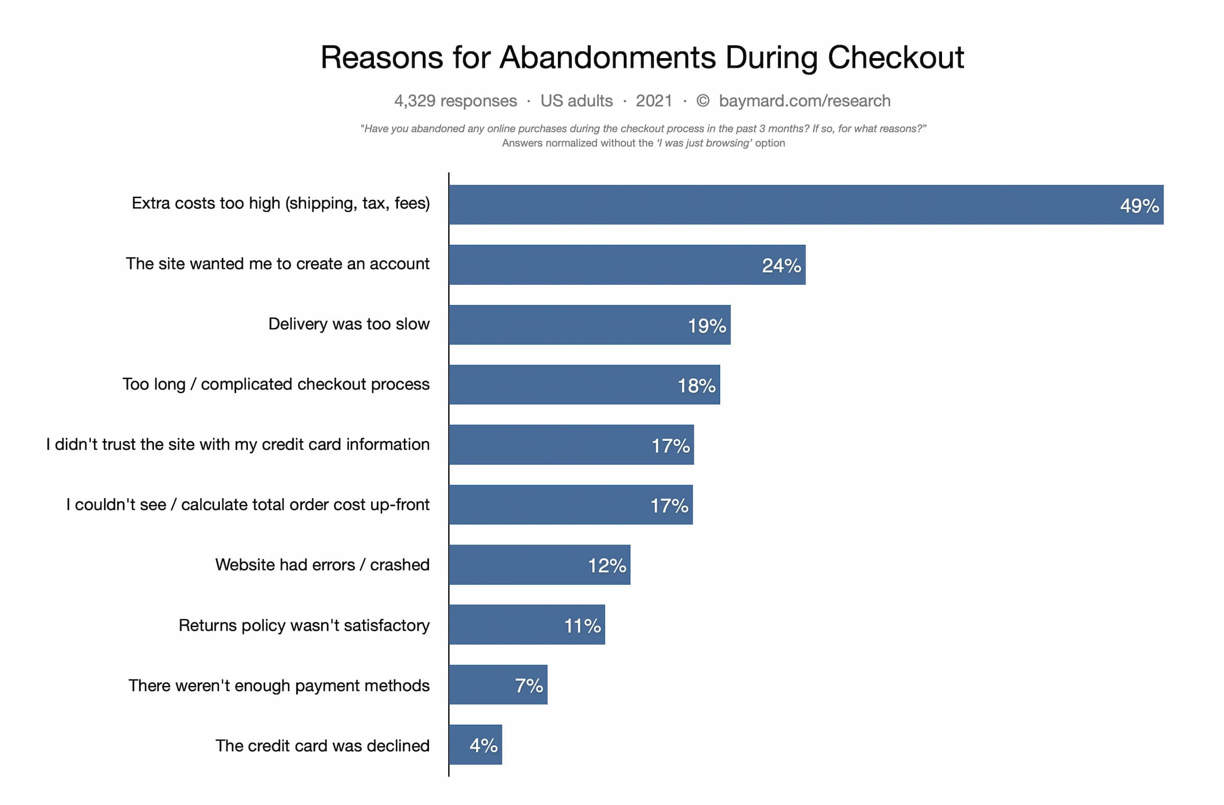 (Source)
So to reduce the final selling price shown to customers, you must aspire to cut down all additional costs. And a nearer fulfilment centre is a big help in this regard.


Overall Quality of Service

Improving the overall quality of service should be the North Star for every ecommerce business.
The reason why you are looking for a partner is that you either have gone above the threshold of your current fulfilling capacity or you don't have the manpower and expertise to build a system in-house for now.

Therefore, before you choose a 3PL provider, FBA, or Shopify fulfilment, ensure that they can cope with your fulfilment requirements as per your business needs; such as using custom packaging material, inserting branded collateral within the parcels, providing end-to-end customer support, sending custom notifications your behalf, and more.

83% of US online buyers want regular updates about their purchases. 53% of US online shoppers won't buy if they don't know when their order will arrive.

So, ask your potential ecommerce fulfilment provider if they can provide continuous post-purchase communication to ensure a pleasant shopping experience for buyers.


Check Reviews of Existing Customers

A great way to evaluate potential fulfilment partners is to ask their existing customers about their performance.

If you can get in touch with an existing customer and ask them for feedback, you are more likely to make a wiser partnership decision with a reliable fulfilment provider.

Search engines are a perfect starting point to find reviews on sites like Trustpilot. Online forums like Quora or Reddit are also good places to know about people's experiences.


Reliable Packaging and Branding Options

Custom packaging solutions play a vital role on both sides—customers and manufacturers.
The customer will get a professionally packed parcel and the manufacturer can get assurance about the safety of the goods.

At PACK & SEND, we use heavy-duty double-layered boxes, and we use bubble wrap or foam wrap for internal packing.

For sealing and taping, we use 48mm wide pressure-sensitive plastic packaging tape. We don't use masking tape, cellophane tape, scotch tape, sticky tape, duct tape, string, or paper over-wrap as these aren't durable options.

Along with these parameters, verify if the fulfilment provider can handle custom packaging requirements like inserting marketing materials, combining different offers during a festive sale, providing white-label packaging, and so on.


Returns Management

Returns and exchanges are inevitable in ecommerce, as the chances of customer errors like selecting the wrong size, colour, or quantity are higher.

Also, at times due to technical glitches from the manufacturer, customers get different products from what they have ordered or the packaging is faulty.

Unsurprisingly, the return rate in online shopping is 30% compared to 8.89% in brick-and-mortar shopping.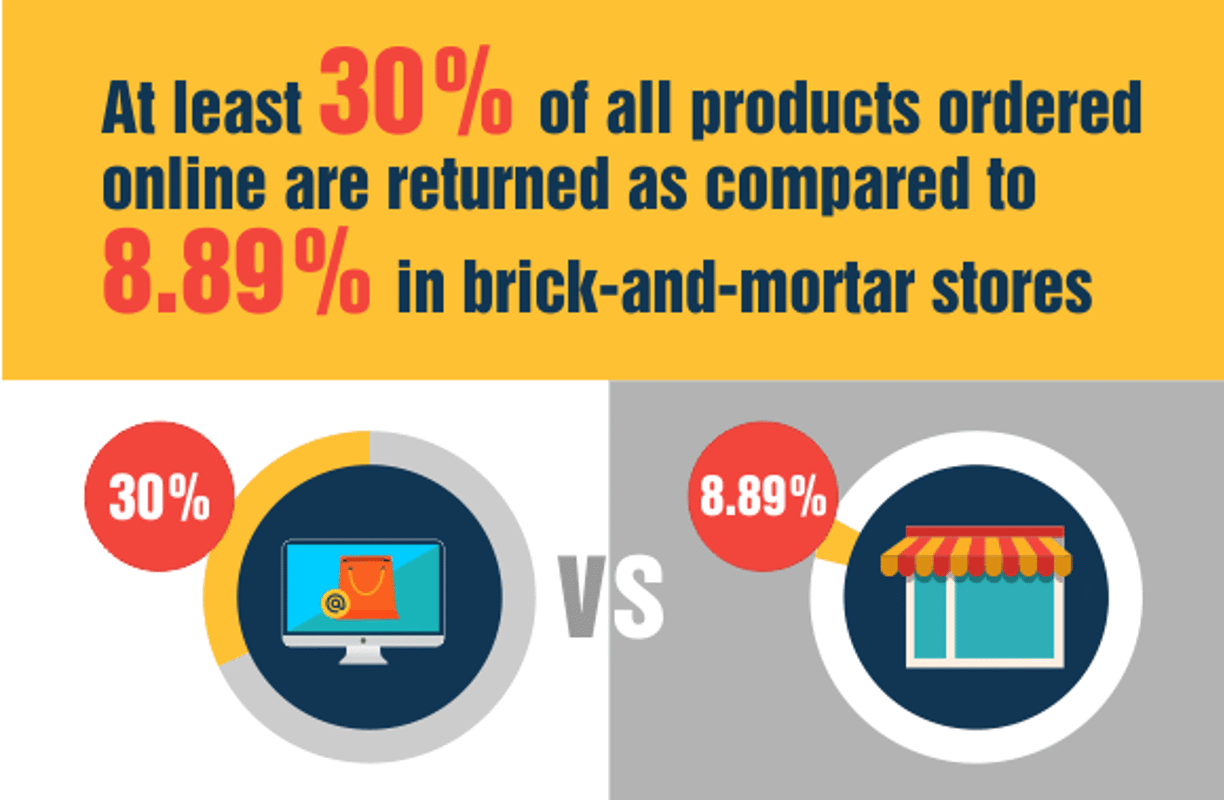 (Source)
So an agile and responsive returns management mechanism plays a vital role in not only winning customers but also retaining them.

A good fulfilment provider should provide free returns and exchanges after a valid reason from the customer.

So, when you choose a fulfilment partner, ensure that they have a robust returns management process in place to cope with all such scenarios.
SLA

A Service Level Agreement (SLA) is a document that formally defines the services offered.
It states all the terms and conditions that both the fulfilment service provider and business owner agree to.

It also mentions the roles and responsibilities so that both parties can be on the same page.

SLA plays an important role. For example, Amazon has few mandatory rules for packaging and fulfilment. If a 3PL supports orders from Amazon, then the SLA will clearly state the terms and conditions that 3PL has to follow.

Now, it's the fulfilment partner's role to take care of Amazon's terms when it comes to handling and shipping. If they fail to do so, Amazon might suspend the seller's account.
When to Choose a 3PL?
Third-party logistics can give you the most flexibility to fulfil your products, which ultimately allows you to ensure the best customer experience at an affordable price. If you want to scale your operations, a 3PL can help you like no other.
A world-class 3PL provider like PACK & SEND can take care of international shipping and freight solutions as well. We provide end-to-end comprehensive couriers and freight solutions to our customers.
We also help in custom packaging and delivery options so you retain your brand voice and positioning.
As a responsible 3PL solution, we provide robust tech support and cloud-based software to manage your inventory and warehousing.
Plus, a 3PL provides fulfilment support of orders from other channels like WooCommerce, Opencart, Shopify, and Amazon. This can help streamline your entire fulfilment process by letting you manage multiple channels and product categories.
You can give a personalized unboxing experience with a 3PL along with custom and white-label packaging. FBA and Shopify don't give you such levels of flexibility.
When to Choose FBA?
FBA is excellent for small businesses. With FBA, you get the advantage of the huge network of Amazon fulfilment Centers which are reliable to warehouse goods and fulfil orders.
If you are a local brick-and-mortar store about to start selling online, then opting for FBA is a wise decision.
With FBA, you get to expand your reach to Amazon's huge customer base.
So if you are just beginning your ecommerce operations, and your primary focus is to deliver products in good condition instead of giving a unique unboxing experience and branded materials with the product, FBA is a good way to go.
For reliable warehousing, shipping and handling, it makes sense to share a certain fraction of your sale with Amazon.
When to choose Shopify fulfilment?
Shopify fulfilment has a niche-specific market and not every ecommerce entrepreneur falls under that category.
If your ecommerce website is hosted on Shopify, then you can consider Shopify fulfilment to cover the USA and Canada regions.
While Shopify is a trustworthy name in the ecommerce space, you might need a bigger budget to have Shopify manage and handle your order fulfilment.
That being said, Shopify has an integrated platform where you can check the status of the order, track your inventory, integrate multiple Shopify channels, and have a more efficient handling and shipping process.
As soon as you receive an order on your Shopify store, Shopify fulfilment will automatically take care of the products' picking, packing, shipping, and fulfilment.
So, long story short, Shopify fulfilment is a good option for ecommerce businesses running on Shopify in the USA and Canada regions.
Conclusion
Establishing a fulfilment process is crucial for smooth ecommerce operations. If this process gets off-track the entire business can be jeopardized in no time.
Since the ecommerce sector is booming in this pandemic and there are lots of trends coming in this dynamic space, choosing a 3PL fulfilment provider would be a wise decision to remain flexible in the long run.
However, FBA or Shopify fulfilment are also good options if they suit your business requirements better.
If you pick a 3PL provider, don't forget to verify the minimum requirements for fulfilment, unless you opt for PACK & SEND where we do not practice any such mandatory guidelines for sellers.
So, which type of fulfilment do you think is right for your business? Do share your thoughts below. And if you want to know more about 3PL, we are always there to help you, so don't hesitate to reach out.