The eCommerce industry had been growing at a double-digit growth rate before COVID-19. But the pandemic-driven online shift has taken this growth story to a completely different level. 2020 saw a 27% rise in global online retail sales and it is expected to touch $4.9 Trillion in 2021.
With this wave of eCommerce boost, the e-retailers are also reconsidering their shipping strategies since transport costs are one of the most influential factors that impact the profitability of an online store. With that said, an eCommerce shipping strategy is much more than just fast delivery and free shipping. There are many factors to consider in order to strategise your shipping approach. 
So, let's get into the nitty-gritty of eCommerce logistics and how to calculate shipping costs effectively so that you can offer delightful offers to your customers and operate at optimal profit margins. 
What are Shipping Costs?
To define simply, shipping costs are the charges you pay for moving your cargo from point of origin to destination. But let's face it, it's not that simple. It covers all the expenses that occur once a customer orders on your website till they receive their shipment. We will cover all these associated costs in a separate section later. 
However, as a business owner, you need to ensure that you can estimate all the costs so that you don't end up losing money on order fulfilment. 
To understand shipping rates, first, let's take a closer look at the challenges that affect your shipping expenses and so your profitability. 
Challenges Impacting Shipping Costs in 2021 and Beyond
In an imaginary world, each of your shipments would reach the destination intact and as scheduled. But, we live in the real world. So any individual or organisation can face one or more of the shipping challenges mentioned below. 
Lack of Visibility
The shipping industry is infamous for its lack of transparency. In all likelihood, you as a shipper would have already experienced it and it has worsened over time. 
If we consider the data, 65% of the procurement leaders said they have minimum to no transparency beyond their tier one suppliers. So, when you don't have end-to-end supply chain visibility, you can't estimate shipping costs accurately. 
Lack of Resilience
The global crises whether environmental, economic, or political, have always caused imbalances in the production and demand of goods. This time, the pandemic has led to the disruption in manufacturing with uncertainties of lockdowns. 
Moreover, the shipping companies are also operating with reduced capacity on major routes and a shortage of containers. The supply chains are yet to build the desired resilience to endure such challenges. Thus, shipping costs are constantly on the rise. 
Delayed Shipments
Port closures and congestion have always delayed shipments. However, 2020 and 2021 have seen the worst on-time vessel arrival rates. 
Share of Vessels Arriving on Time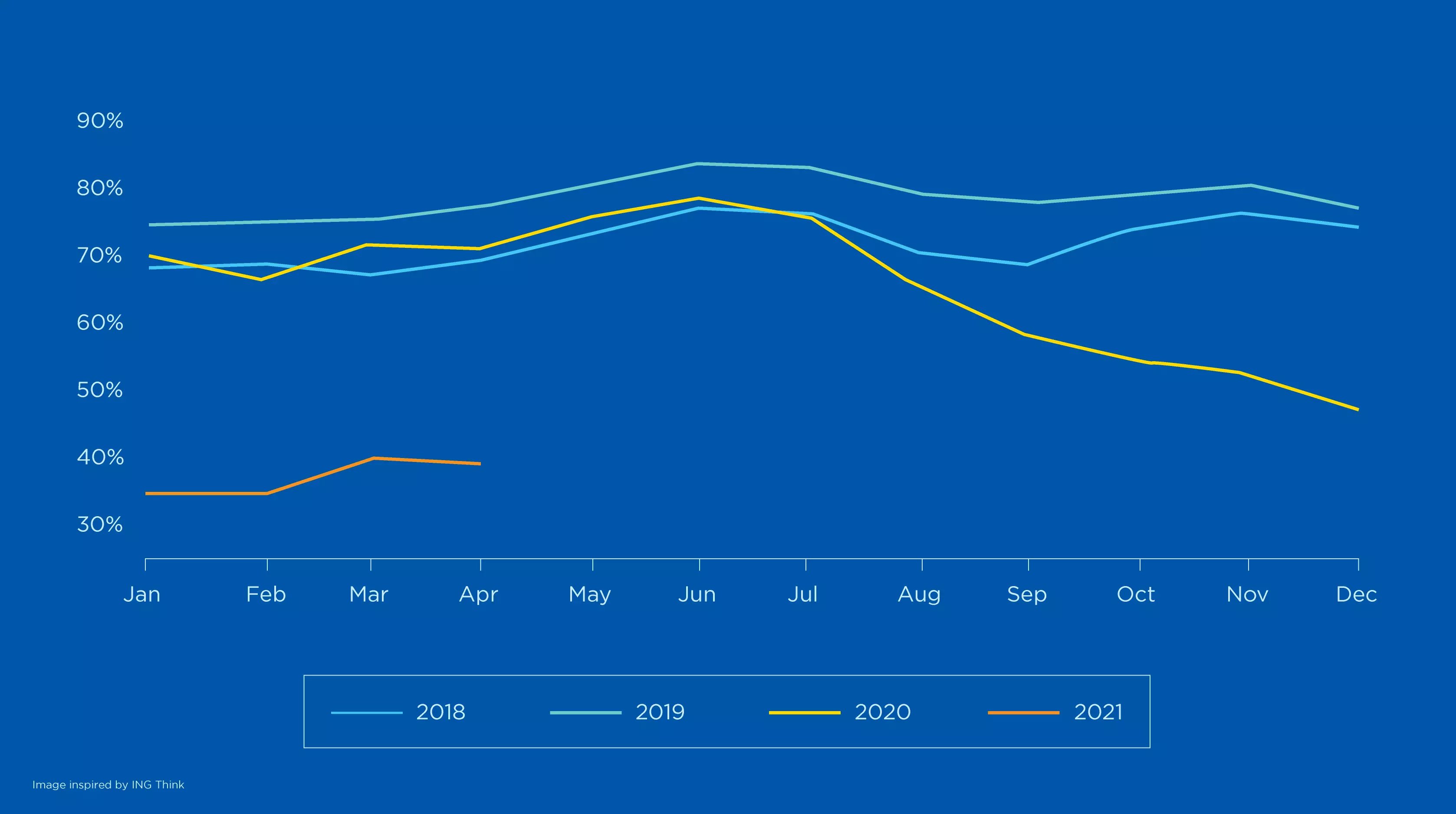 There is nothing much you can do about the shortage of containers or port closures. But, you can:
Plan ahead for demand spikes such as festive seasons
Prioritise your critical and time-sensitive shipments
Analyse and select the carriers with the least delays
Forecast delivery times with

order fulfilment software
Increased Freight Rates
In 2020, the freight rates were increasing linearly. But this year, they have surged dramatically and it is likely to follow the same trend the next year too.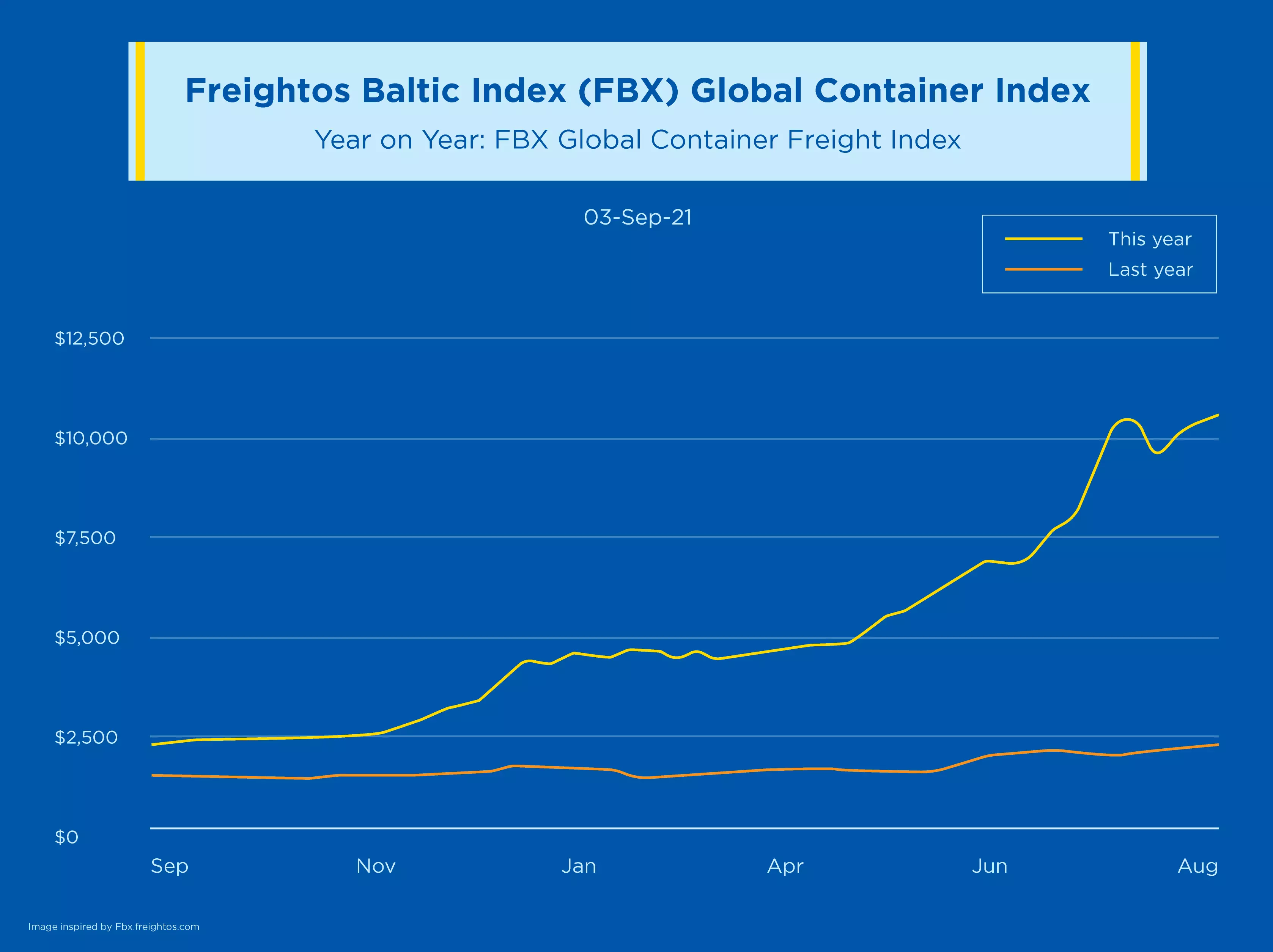 This can impact your logistics budget and overall shipping costs. Therefore, you need to choose carriers with competitive rates and it is advisable not to get locked into long-term contracts. 
Reasons to Estimate Shipping Costs in Advance
When you are on top of your shipping charges estimates, you are in a better place to provide an instant shipping quote at checkout. This makes your brand more trustworthy because this is the least your online shoppers expect from you. 
Besides, if you calculate shipping costs in advance, you can successfully:
Highlight the Need for Securing the Shipment 
The eCommerce industry is growing rapidly and e-retailers must prepare for the risks that follow such growth. One of the many threats that eat into online retailers' margins is shipment damage in transit. 
For example, your consignment reached the destination in a damaged condition. The carrier is responsible for the damage and they will also compensate. However, carrier liability covers only partial losses. So, it's wise to secure your shipment with a reliable protection provider. 
You can consider parcel protection for small or retail shipments and freight security for bulk goods. These expenses directly add up to your transport charges. So, when you estimate shipping costs in advance you can make these necessary inclusions and protect your profitability. 
Choose the Right Logistical Approach
When you calculate shipping costs in advance, you have a better view of the logistics options that match your budget. This can help you stay competitive and cost-effective by deciding on the optimal logistics strategy.
For example, we used a price comparison tool and analysed the shipping charges from Melbourne (Australia) to Paris (France) for a pallet weighing 500 kgs. Thus, we got multiple freight estimates.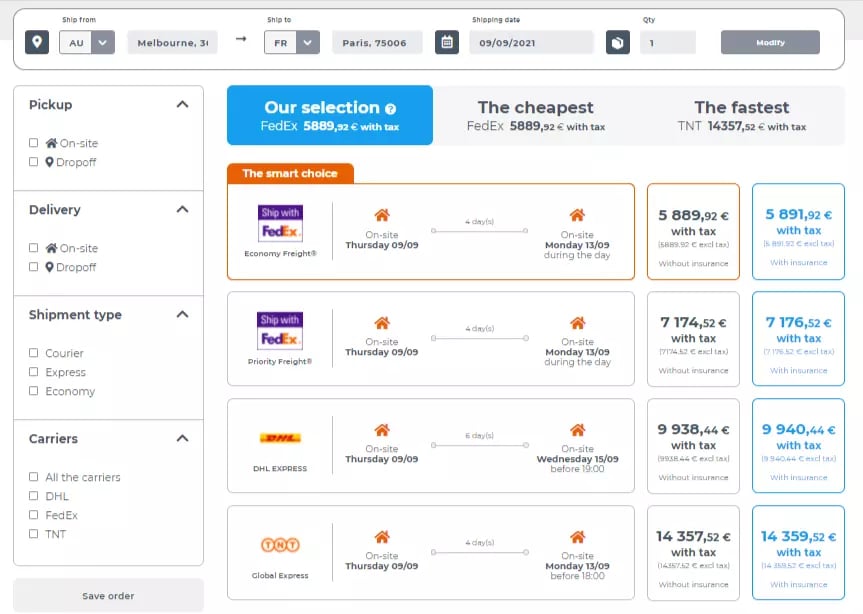 Thus, you can zero in on the option depending on your budget or urgency. This drill also gives you insights into whether you need to take alternate routes or modes of transport such as by road, ocean, or air. 
Facilitate Better Financial Planning
As they say "a penny saved is a penny earned." But when it comes to shipping in volumes, these pennies convert into thousands and millions. As a business, you should utilise every opportunity to save costs and improve your margins. It can also help you offer better rates to your customers. 
For instance, when you pay high freight tariffs to carriers but ask too little from customers, your margins shrink. Neither you can charge them too much, or you lose your shoppers to competitors. Since shipping charges are one of the most volatile costs for your eCommerce company, having a tight grip on it ahead of time helps you plan your finances efficiently.
Create a Shipping Strategy
Although you may have started your eCommerce venture with a simple free delivery approach, operating at scale requires you to have a robust shipping plan in place. That's what successful e-retailers do. 
The fact that 70% of U.S. customers chose a competitor site with more suitable delivery choices, reiterates the significance of logistics management. An effective shipping strategy can help you:
In other words, your shipping strategy can make or break your e-store's success. Here are a few approaches to shipping that can help you stand out from the competition and improve your margins.
Free Shipping
The easiest of all strategies is free shipping. No prize for guessing! It has gained a lot of popularity since Amazon started offering free deliveries on orders worth $25 or more. 
You can include a free delivery option for the following benefits:
Easy implementation
Your customers love it.

79% of shoppers

said that they are more likely to buy when offered free shipping
Reduced cart abandonment.

36% of online customers

abandon their shopping carts when they have to pay for delivery
Here's how Superdry offers free shipping options to its customers.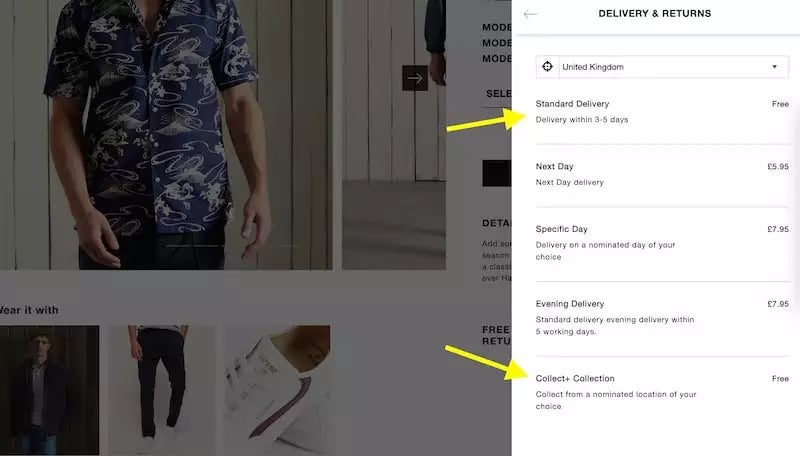 However, if you offer free deliveries you need to understand its impact on your earnings. It is free only for your customers but you still have to pay the carrier. So, let's look at a few workable solutions:
Cover delivery charges in the product price: For example, you are selling a product for $35 + $5 shipping = $40 total. Instead, you can list your product at $39.99 and give free delivery. 
Threshold-based free shipping: Provide no-cost shipment on shopping cart value exceeding a certain amount.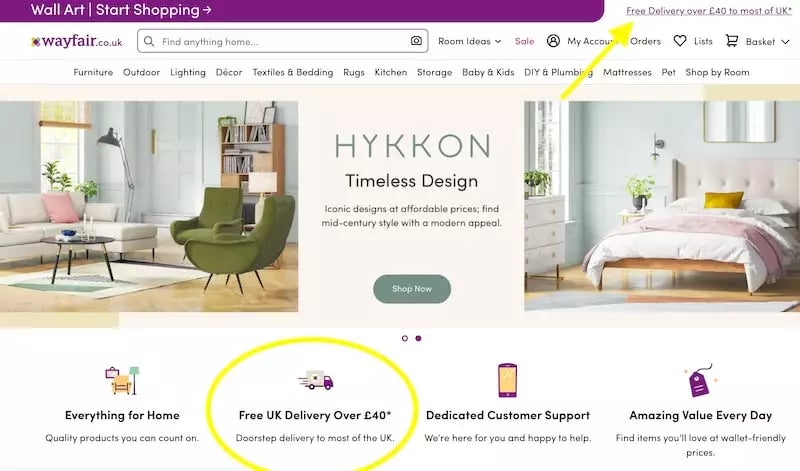 This tactic can also boost your Average Order Value (AOV). 
Free delivery on ordering more quantity: You can offer to waive off shipping fees when a customer buys two items or more depending on your cost structure. 
Thus, you can strategise your free shipping offers without impacting your bottom line. 
Flat Rate Shipping
Another way you can go about charging for deliveries is by applying a flat rate on each delivery regardless of the order value. Take Truly's Natural Products, for instance, they charge $2.99 shipping fees for a single product order. 
However, you should also consider that 63% of consumers abandon their shopping carts due to high shipping costs.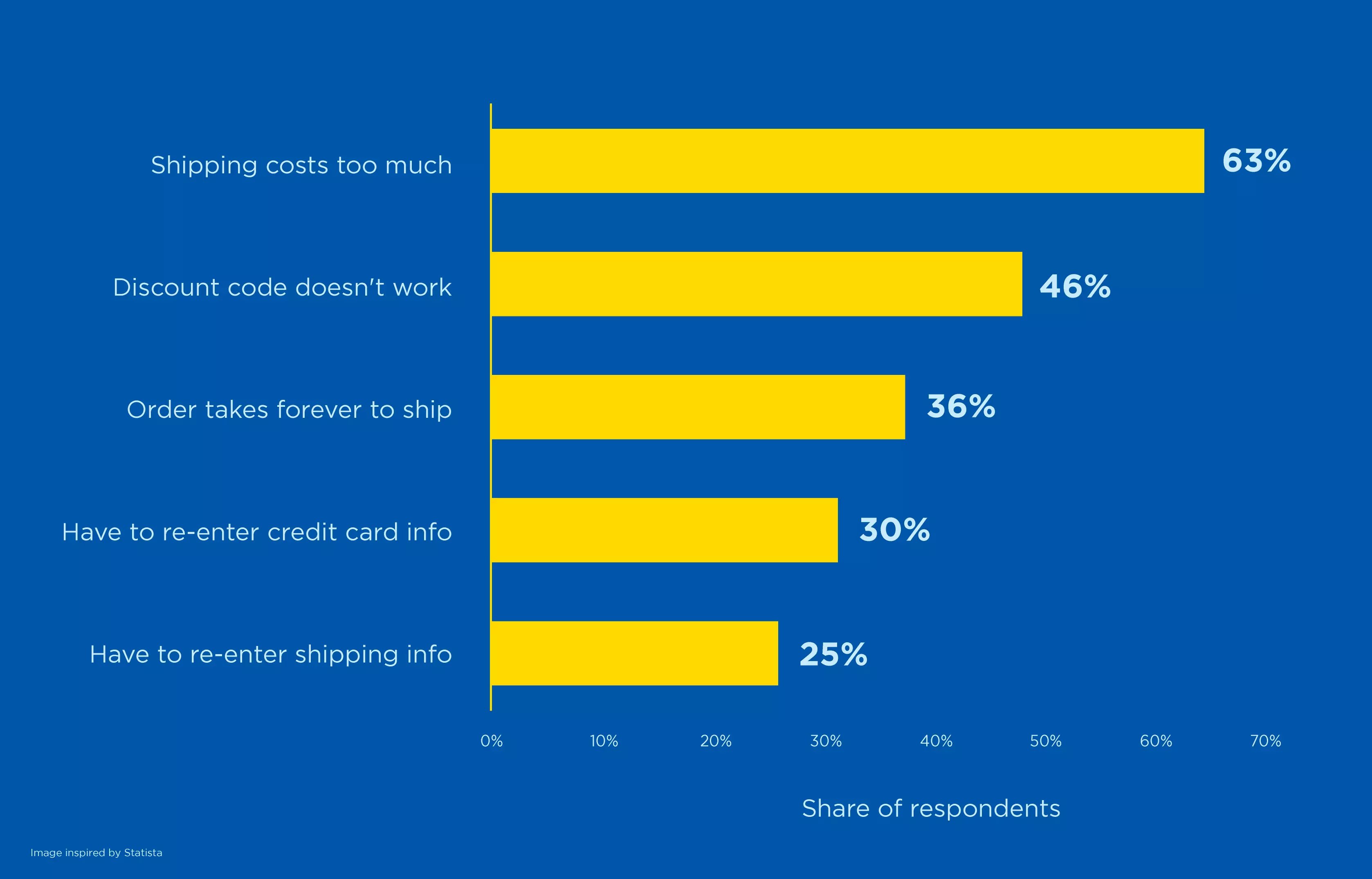 Hence, before implementing a flat rate delivery, it is important to estimate shipping costs you will pay to the carrier. 
Real-Time Shipping
If your goal is to provide the best shipping fees to your customers, then the live rate is the answer. You can obtain real-time shipping rates from carriers like FedEx, DHL, or UPS.  
Once you have shipping quotes, go ahead with the most economical rate and charge the same from your consumers. This is helpful especially when you are operating in a market where your competitors are also offering real-time charges on deliveries. 
Comparison of Shipping Costs for Various Order Fulfilment Methods
Growing your eCommerce business requires you to have a full-proof order fulfilment process because it impacts your overall operational costs. Therefore, it makes sense to research and compare the shipping expenses that each of the following fulfilment methods entails. 
In-house Fulfilment
If you have just started an online business and you are processing very few daily sales, then you can fulfil your orders in-house.
Initially, you can use your home or garage for all your fulfilment requirements such as inventory storage and packaging. Hence, you typically spend only on packaging and shipping. 
However, if you are a medium or large-scale business and still decide to process your orders in-house, you need separate warehouses and processing centres.
Moreover, you also need to hire employees to manage these facilities. This can result in huge expenditure. 
Third-party Logistics (3PL)
As your business grows, you realise that fulfiling the orders in-house is a challenge. If you are receiving hundreds or thousands of orders daily, your entire focus may shift to managing logistics rather than leading the growth. In such cases, third-party logistics or 3PL fulfilment is your best bet. 
Since your 3PL service provider takes care of the entire fulfilment process. This includes receiving inventories, warehousing, picking & packing, shipping, delivery, and returns.
So, you don't need to invest in physical facilities such as warehouses and processing centres. And you also don't need to hire employees to manage logistics. Thus, outsourcing your order-fulfilment can save you a lot of unnecessary expenses. 
Furthermore, third-party logistics companies are experts in managing the order-fulfilment processes. Hence, your eCommerce business can ride on their expertise.
Dropshipping
Dropshipping is similar to outsourcing, with the exception that there is no inventory to be managed. As a retailer, you don't have to stock the items. Instead, the manufacturer or supplier stores, and ships the orders.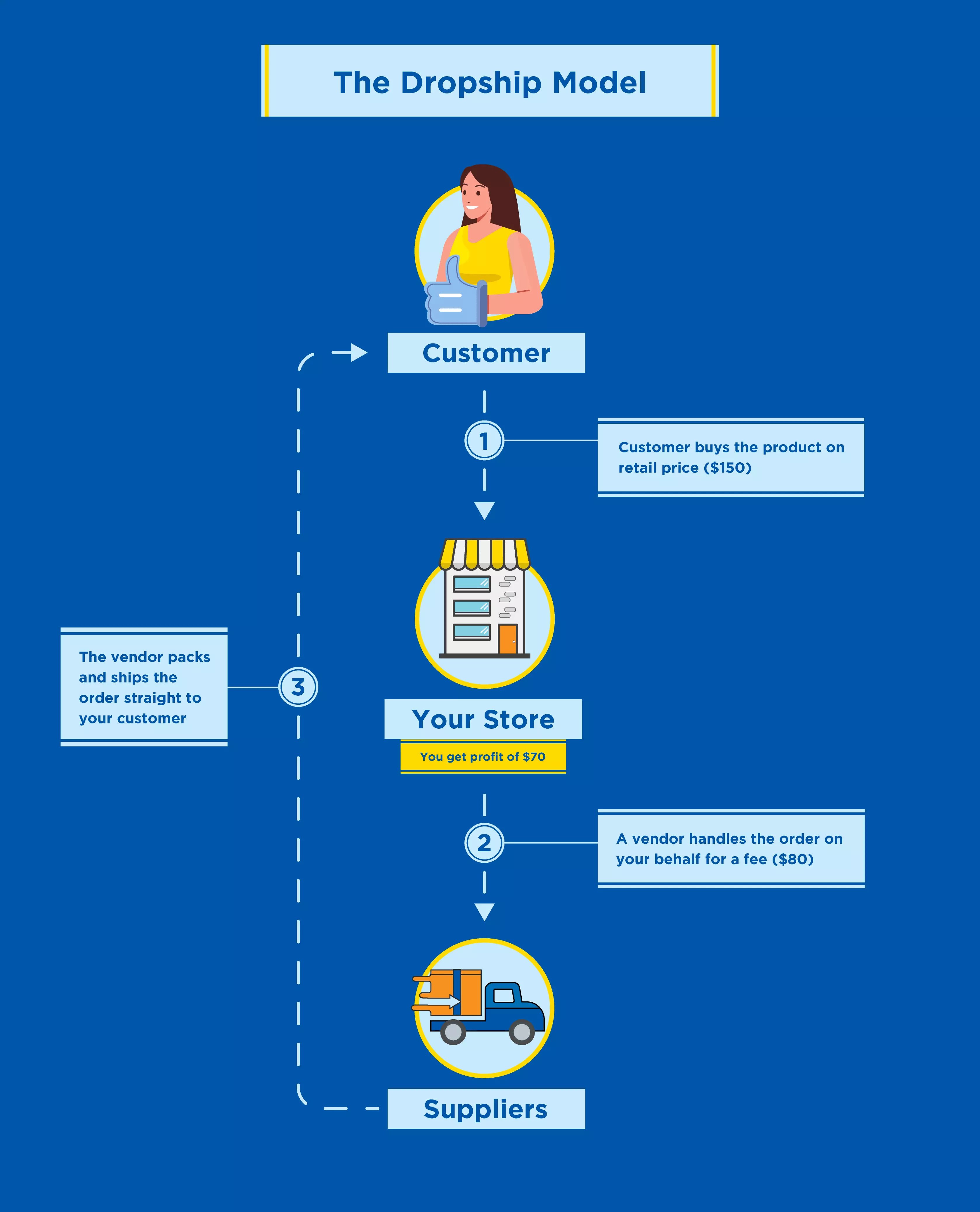 However, most manufacturers are located overseas. This can lead to higher shipping costs and a longer time in fulfiling the orders. 
How to Calculate Shipping Costs (Without a Shipping Cost Calculator)
Having discussed the importance of estimating your logistics charges, now let's dive into how to calculate shipping costs that you will pay to carriers. The quickest and simplest way to do this is by using a shipping cost calculator. 
What is a Shipping Cost Calculator? 
A shipping cost calculator is an online tool that helps shippers get an accurate estimate of carriage. Since calculating shipping fees can be a little complex task, all reputed carriers and freight resellers like PACK & SEND provide this facility on their websites.
Factors Required to Calculate Shipping Cost Averages
Here,  we narrow down the primary factors required to be considered for calculating shipping costs. Mention the average rates and examples associated with each factor.
Your shipping costs are impacted by many factors such as package dimensions, type of shipment, destination, weight, and more. Once you have these variables handy, the calculator can give you an accurate estimate. Below, we have outlined the seven major factors that decide shipping expenses for your eCommerce business. 
Shipping Destination
Your shipping destination is a key factor that carriers consider while giving you transport estimates. More distance equals a higher price. To simplify this, all major carriers define their shipping zones.
For instance, FedEx has created a zone index and assigned shipping zones to countries in their logistics network. So, before calculating the shipping costs, you need to have the details of origin and destination with postcodes.
Similarly, for international cargo, they have defined country price groups. So before calculating the shipping costs you need to have the details of origin and destination with postcodes. 
Dimensions of the Package
When carriers ship your products, ideally they are selling you the space in their transport vehicles like trucks, ships, or aircraft. Hence, the bigger your package size, the more space it occupies and the higher you pay. 
Moreover, you may also have to pay extra for oversized or odd-sized packages, and non-stackable or cylindrical shipments depending on the carrier you choose.
Value of the Contents
If you are transporting high-value or fragile products, they need to be protected from the risks associated with the shipment. While protection plans are useful, it can increase your shipping charges significantly.
Likewise, shipping dangerous goods — also known as hazardous materials — will be charged extra by transport companies.
Delivery Times
Shipping companies usually offer a duration of standard and express delivery times depending on the origin and destination. Most carriers have delivery time ranges that fit into one of the three categories below:
Time-specific deliveries that deliver shipments at specific time slots on the date of delivery
Express services like next day or same-day delivery
Standard delivery time ranges like two to seven working days, depending on the carrier and destination
For example, when you ship goods weighing 500kgs from Perth (Australia) to Los Angeles (United States), FedEx international shipping cost* for the economy and priority freight will be different, the latter being more.

*Above rates are just used as an example. Real-time charges may vary.
Weight of the Package
The deadweight of a package is a simple weight that you can check on the weighing scale. Some shipping companies may charge according to it. 
However, most carriers consider the volumetric weight of the package to calculate shipping rates. This is how you can calculate the volumetric weight freof your shipment.

(Length x width x depth) ÷ Common Divisor* = Product Weight
*Most companies use numeric value 5000 as a divisor. 
Packaging Material
Your choice of packing material can add up to your shipping charges in unexpected ways. Hence, consider the following aspects while deciding on packaging:
Quality of packaging: High-quality boxes can increase your cost, at the same time poor quality material can deteriorate in transit and may raise the risk of the product return. So, find a balance between quality and cost.
Size of packing material: Sometimes you may find big boxes are cheaper than small ones. But if your product is small, packing it in a big carton will only increase the DIM weight and so your shipping fees.
Extra materials: If your items can get damaged due to turbulence in transport, it's better to use some cushioning. It will cost you much less than replacing a product. Though it may look like a small cost, they can add up quickly if you don't take them into account.   
Besides, your packaging also represents your brand, so it certainly needs consideration.
Frequency and Volume
If you go walk-in to send a one-off parcel, you pay the retail shipping charge which is usually higher. However, all major carriers offer commercial pricing options to businesses that have high volumes and frequent shipments. 
For example, UPS offers special shipping rates for small businesses. Thus, you can negotiate your contracts with transport companies and get better deals on shipping charges.
How to Calculate Shipping Costs
Let's take the same hypothetical example of sending a parcel from Perth (Australia) to Los Angeles (United States). This time, the package details are: 
Dimensions: Length (50cms), Width (40cms), Height (50cms) 
Weight: 20kgs
And we received an estimate of $170 shipping fees using the shipping cost calculator. Now, adding up all the costs: 
| | |
| --- | --- |
| Type of Cost | Amount  |
| Product Cost | $1000 |
| Shipping Fees | $170 |
| Packaging Cost  | $25 |
| Credit Card Processing Fees | $5 |
| Total Cost | $1200 |
| Ideal Profit Margin | 40% |
| Selling Price | $1680 |
*All values above are hypothetical and it does not represent Pack & Send estimates. You can get accurate shipping quotes here.
Thus, when you know accurate total costs i.e. $1200 in the above example, you can easily decide the selling price according to the profit margin you want to keep. Here is how you can calculate the retail price considering you want to make a 40% profit.  

Selling price (S.P.) = (100+%Profit)/100 × Cost price 
So, S.P. = 100+40/100 × 1200
Therefore, S.P. = $1680
Now that you know all the major factors that add to your shipping costs and also how to calculate them, you can do your math and make informed decisions.  
Tips to Reduce Shipping Costs
Since shipping costs constitute a major component of the operational costs of your eCommerce business, you must look for ways to trim them. Check out the below tips on how you can reduce your shipping expenses. 
Prefer Economical Packaging
You can save a significant amount on shipping charges by following a few smart tactics. Let's say you want to ship two products each weighing 10kgs. The carrier ground rate to ship a 10kgs box to your destination is $15 and $20 for a 20kgs box. 
Now, instead of shipping two 10kgs boxes, if you consolidate them into one 20kgs box, you have to pay only $20 to the carrier. Whereas shipping two boxes individually would have cost you $30. Thus, you saved $10 or 33% on your shipping costs.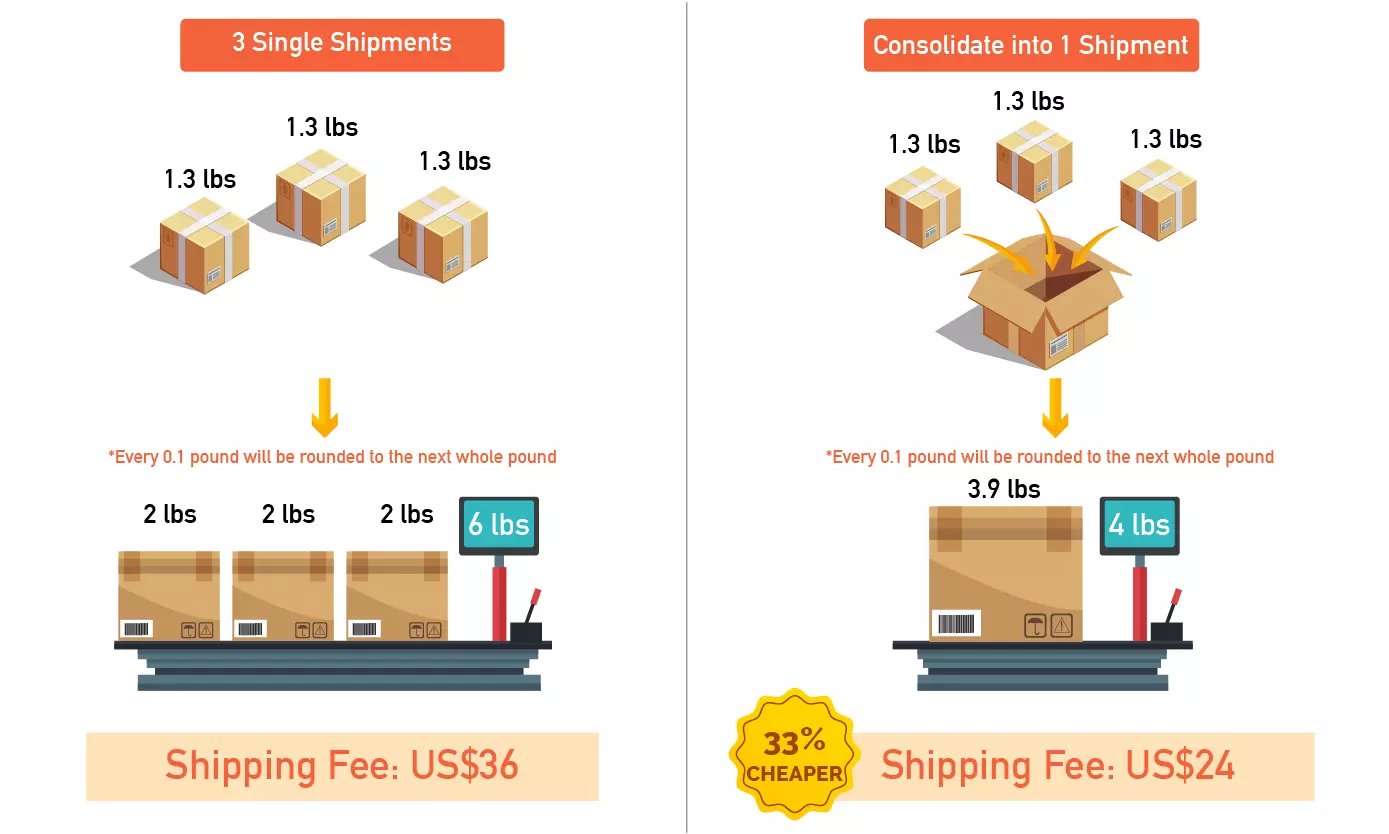 Additionally, some carriers also provide discounted or free packaging for small parcels. Use such opportunities to reduce your shipping charges.
Use Reputed Shipping Companies
When you use the shipping services of reputed companies like PACK & SEND, it gives you multiple benefits besides being cost-effective.
They can offer better rates since they operate on a large scale and they have their network spread across the globe.
Also, they take the protection plans for the goods they transport. So, in the case of damage or loss of your shipment, they accept carrier liability and compensate you. 
Implement Combination of Different Shipping Carriers
Let's say you are an eCommerce retailer based out of Australia and you have your shipping contract with FedEx.
However, on a specific route UPS offers better rates. Then, you can save your costs by shipping through UPS in this case. Thus, you can use a combination of shipping companies to maintain lower shipping costs.
Educate Customers
According to a study, only 22% of the merchants share information regarding their shipping policies on their homepage. Just imagine, as a customer would you like to find unexpected charges at checkout? Certainly not. 
Then, if you are charging for shipping, educate your consumers with valid reasons for these costs. Also, you can help your customers by giving them a facility of discounted shipping charges if they pick up their parcels from pick-up centres in their cities. 
Research and Prefer the Best Deals on Shipping Rates
Though you may be shipping products every day, it still pays off to research and compare the real-time shipping rates of various carriers. Sometimes there can be exclusive deals with a specific carrier, one shipping company may have better domestic rates, while another may offer attractive international freight charges.
Reputed courier and freight resellers like PACK & SEND, can aggregate all the offers from multiple carriers and give you the most competitive quotes so that you don't have to check rates on individual carrier's websites. Thus, you can get the best deals in seconds. 
Summing Up 
One of the most prominent factors that help an eCommerce business succeed, is its shipping strategy. While offering low delivery charges makes your customers happy, it can shrink your profit margins. Whereas, charging too much can increase your shopping cart abandonment rates and lower conversions. 
Considering how each of the above scenarios affects your business, the best tactic is to invest enough time in researching, calculating, and negotiating the best deals with shipping companies. In addition, look for every opportunity to trim your shipping costs. Following the above tactics can help your business stay competitive and profitable.  
Frequently Asked Questions (FAQs) 
How do I calculate shipping costs?
The best way to calculate shipping costs is by using an online shipping cost calculator of a reputed carrier or freight forwarding company. 
What is a shipping cost calculator?
A shipping cost calculator is an online tool that helps shippers get an accurate estimate of carriage. Since calculating shipping fees can be a little complex task, all major carriers and freight resellers provide such calculators on their websites. 
How much does shipping cost?
Your shipping costs depend on factors such as destination, mode of transportation, the urgency of shipment, and more. Hence, you need to enter specific details in the shipping cost calculator to get accurate estimates. 
How much is it to ship a package?
The shipping charges may vary according to the weight and dimensions of your package. The bigger or heavier the package, the more shipping costs you pay. 
Who pays for shipping costs?
Generally, a shipper or consignor who wishes to send a parcel to some destination pays for shipping costs. As a business, it is your discretion whether you want to charge the shipping fees to your customers. 
What is a smart way to ship in general?
A smart way to ship is, knowing the factors that can impact your shipping costs, taking account of the risks associated with transport, and securing your parcels accordingly. Also, you should consider the reputation of carriers or freight forwarders. 
What is the cheapest way to ship? 
The cheapest way to ship is: Keep all the shipment details such as destination, package weight & dimensions, and value of the product, etc. handy. Then add these details in an online shipping cost estimator, and select the cheapest rates. 
If you have a high volume and frequency, you can also negotiate commercial rates with carriers.
How much money do I need to ship products?
The amount of money you need to ship products can vary depending on factors like the distance, carrier, weight & dimensions of the package, etc.
Is there a standard range of time that products take to be delivered? 
Every shipping company has the standard duration that they take to deliver your parcels. This duration may vary from carrier to carrier. They also offer facilities like express, next day or same-day deliveries.