Many small and medium businesses fall victim to storage mistakes that can hamper their sales, delivery time and expenses. Whether you've locked yourself into a warehouse contract that's eating away at your savings or you're trying to run everything on a shoestring budget from your own garage, there are often ways to improve things by outsourcing the work.
When it's time to go
Many small businesses start off by storing products and files in a spare room of a house or office. As they begin to grow, so does their need for space. If your current storeroom is cramped, poorly organised and more in keeping with a hoarder's paradise than a well-run business, it may be time to make the switch to a warehouse.
Drop shipping
One of the most expensive parts of shipping goods is the storage costs associated. Instead of footing the bill yourself, and arranging for delivery and warehouse maintenance, you can opt for a drop-shipping solution instead. In this arrangement, you will send order details to the manufacturer or wholesaler who will ship the goods directly to the customer, normally with a white-label solution so it looks like you're the only party involved.
Third-party use
If you prefer to have direct ownership over your goods, renting warehouse space and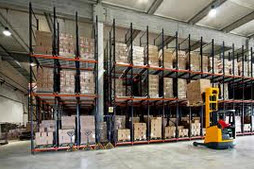 getting someone else to look after it is another option. Companies tend to rent by the square metre so you can get as much or as little as you need and you can change your space order when things are going well. This flexibility can be a great boost for new businesses.
Experienced staff
If you're entering the market with a new company, having the finances to be able to offer full-time work to warehouse staff can be hard, as can having the knowledge and contacts to get a full team together. By outsourcing your warehouse requirements you can be safe in the knowledge that the team working on your goods is fully qualified and up to the job.
As well as helping to improve your company's image and reduce costs, outsourcing warehouse duties means you have more time to spend on the important aspects of your business, which can help it grow even further.