Suppliers form an essential part of the supply chain. 
Measuring their performance plays an important role in various aspects of procurement, onboarding and in overall supplier relationship management. 
In this guide, we'll cover: 
What supplier performance management is
How it's different from supplier relationship management
Supplier performance management best practices
Benefits and challenges of supplier performance management
Let's dive in.
What is Supplier Performance Management?
Supplier performance management (SPM) means tracking and measuring the performance of the multiple suppliers that are associated with a particular business. Supplier performance management helps with controlling costs, building long-lasting relationships with suppliers, and supporting compliance. 
While it may sound simple, supplier performance management can get challenging since businesses deal with multiple suppliers and strive to get the best deal with price-efficient transactions. 
How Does it Contrast with Supplier Relationship Management?
It's easy to get confused between supplier relationship management and supplier performance management since both share similar goals and supplier performance can directly influence supplier relationships. 
But they have their differences. While relationship management is mainly an internal process, performance management happens both internally and externally. 
Relationship management means going through the list of contracts with suppliers and gauging what they can learn from supplier partnerships. Performance management involves evaluating supplier performance to reduce risk and manage costs.
Best Practices for Supplier Performance Management
1. Establish Performance Indicators
There's been a time and gain mention of KPIs. It is what ultimately gives you an overview of how the suppliers are performing. Some of the touchpoints that your KPIs should address are price, cost, quantity, service, fulfilment distribution, payment terms & methods, value addition, innovation culture, etc. 
The top KPIs that every procurement manager should measure are supplier lead time, supplier availability, defect rates, purchase order (PO) cycle time, procurement return on investment, and supplier compliance rate.
2. Classify Suppliers
Organise your suppliers into categories so you can assess them regularly. You can either categorise them based on their geographies or based on product types. 
3. Integrate Data
The supplier information is scattered across different systems like eCommerce shipping, finance tools, and procurement business systems. Consolidate all this information under a single system so that you can get a bird's eye view of all the supplier information. 
4. Develop a Robust Evaluation Approach
Select an evaluation framework that works best for your organisation. These frameworks work as guidelines that allow you to remaster dropshipping supplier relationships. You can measure based on operational performance, relational performance, and transformational performance. 
Once you choose a method, decide whether you would measure them monthly, quarterly, or yearly. After that incorporate supplier performance scorecards, contract management, and six sigma. 
Here's a template to help you measure your supplier's performance.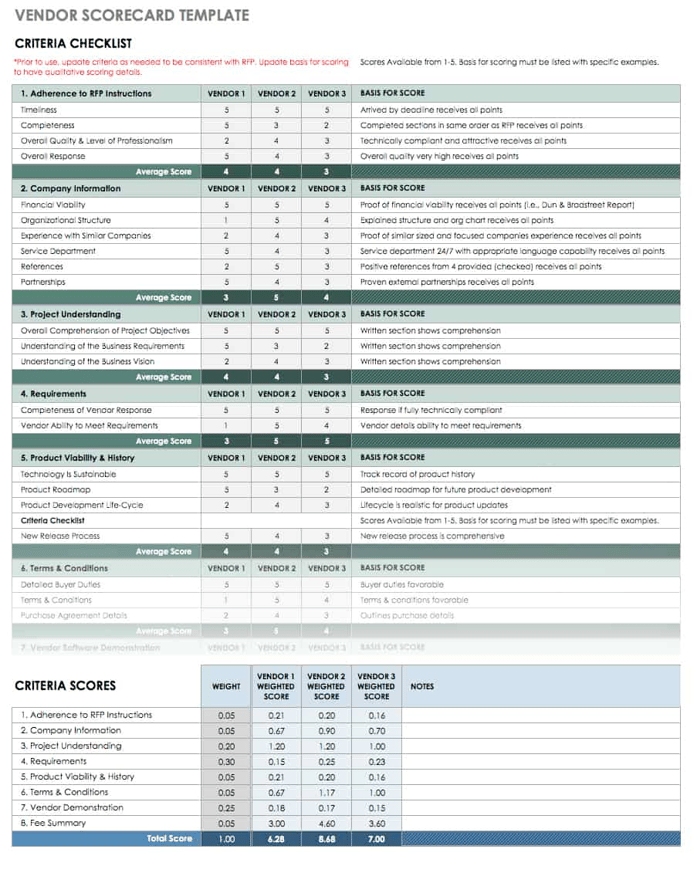 Similarly, you can create your own supplier performance scorecard based on the criteria that matter the most to your business. 
5. Create an Actionable Plan
Send the performance report cards to suppliers and highlight any specific action points to address gaps in the supplier performance management. The end goal should be to improve communication, detect issues, activate feasible action items, and track measurable improvements.
Benefits of Supplier Performance Management 
1. Avoid Supply Chain Risk and Disruptions
Supply chain is prone to disruptions owing to the volatile nature of the logistics market. It's important that you address any unforeseen disruptions beforehand and supplier performance is one of them. 
You cannot put preventative measures in place and reduce risk exposure if you aren't familiar with the third-party vendors in your supply chain. It will give you critical insights into how to craft business strategies for the future and how you can implement the same in the event of a disruption.
2. Improve Brand Reputation 
Despite proceeding very carefully with choosing your suppliers, you can only fully understand how reliable a supplier is once you enter into a contract with them. Either the suppliers are everything you'd hope for or either they provide you with poor service and low quality products that can tarnish your reputation. But you cannot leave this to fate as your reputation is at stake. 
With SPM, you can get in-depth visibility of potential risks of a supplier and track supplier performance against the KPIs. It enables you to take corrective actions early and keep your brand and reputation game strong in the eyes of your customers.
3. Avoid Unnecessary Costs
Cost overruns are a nightmare for any supply manager. It can stem from poor product sourcing or poor supplier management. A lack of timely and accurate supplier information can have a negative impact on your costs and profit margins. And eventually, it becomes difficult to limit the costs and improve the bottom line if overruns are very high. 
Supplier performance management takes into account the various expenses incurred by suppliers. SPM can facilitate tracking supplier performance against predefined KPIs to avoid unnecessary costs and keep the costs low and profit up. SPM also helps in achieving savings and consolidates data into a single source of all cost-related information.
4. Segment and Rank Vendors
Not all your suppliers add the same value to your business. Some provide better products while some hold a certain monopoly over certain products, and some are just decidedly better than others. But how do you come to this conclusion in the first place?
With Supplier performance management. 
SPM helps you evaluate each supplier and rank them on the basis of the same predetermined data. You can then gauge and rank suppliers based on how well they meet your expectations and help with the order fulfilment process.
5. Improve Internal Processes
SPM data can help you take effective and accurate decisions regarding vendor selection. You can also rely on SPM tools to build a procurement team and streamline vendor management processes.
Challenges in Supplier Performance Management
Since organisations have multiple suppliers, 3PL providers, and dropshipping suppliers, it's challenging to monitor them across the supply chain. You require constant real-time communication and adhere to formal procedures. Some other top challenges are:
Hesitancy to implement performance-based supplier performance scorecards
Decentralised reporting
Lack of involvement of the leadership in monitoring supplier performance
Lack of clarity between supply performance quality management and supply chain management 
If you're aware of the challenges beforehand, you can take steps to avoid these issues while you implement your supply performance management. For example, you involve the leadership from the beginning, have a clear hierarchy for reporting, etc. 
Conclusion 
Creating a seamless supplier performance evaluation process is critical for companies to better their supply chains and improve their customer satisfaction. For more information on how you can make a difference in supplier performance, get in touch with us at PACK & SEND and we can get you on board. 
Image source: Smartsheet