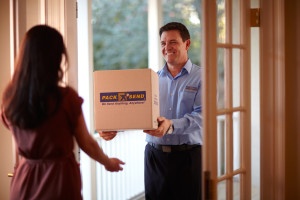 The key to a successful eBay store is making your courier service work for your business. It's no secret that an effective logistics and fulfilment strategy is essential to remaining competitive – shipping is no longer a back-end process to consider after a sale is made. Fulfilment and logistics are becoming competitive differentiators that, if done right, can significantly drive sales and enhance customer loyalty.
In order to maximise your customers' shopping experience (and in turn, your profits) PACK & SEND recommends
you develop a logistics strategy incorporates a few of their tricks of the trade:
Shipping etiquette
Great – you've just closed a sale – now what? Your first priority should be to send the item out as soon as the buyer has paid for it. If you can't ship the package immediately, contact the buyer and explain the reason for the delay. Honesty and courtesy will get you a long way in the minds of your customers and differentiate you from your competitors.
Inconsistency in fulfilment and end-user experience usually has a negative flow-on affect. On the other hand, if a customer knows they can order one day and receive the goods the next, they're likely to purchase again and recommend you to their family and friends.
Efficient shipping tools
Ensuring that your goods are delivered to customers quickly requires you operate a very efficient eBay store. Therefore, make sure you use a courier service provider that can give you specialised eBay tools to improve your productivity.
For example, choose a courier service provider that allows you to book shipments online 24/7 – and also one that has integrated their technology with the eBay website. This will enable you to automatically calculate, list and print labels for parcel shipments – all at the click of a button.
Partner with a 'one-stop-shop' courier and freight reseller
No single courier company can be competitively strong on price to every destination. They all have their strengths and weaknesses. Further, most eBay sellers neither have the time or the expertise to deal with a wide range of multiple carriers to take advantage of particular courier company strengths.
That's why it's smart to send your goods through a respected courier services re-seller like PACK & SEND. When you are dealing with a value-add courier reseller you are getting the benefits of their expertise and the strength of using multiple carrier services – whilst at the same time dealing with only one point of contact who makes the whole shipping process seamless.
Don't assume that courier service resellers are more expensive than going direct to a carrier or the post office. In fact, it's more often than not the opposite. Respected courier reseller brands with an international footprint like PACK & SEND have enormous buying power, resources and online shipping tools, and are therefore able to add value to courier and freight services and pass these time saving benefits and cost savings on to their customers.
Make deliveries convenient
Make life a little easier for your customers and ensure your courier provider offers more choice in delivery options. Some customers prefer delivery to the door and others prefer services such as PACK & SEND's 'Hold for Collection' where parcels are delivered to the nearest PACK & SEND Service Centre, allowing the buyer to collect the parcel at a time that suits them.
Key account VIP service
As an eBay seller, shipping can be your competitive advantage. Therefore, make sure you choose a delivery provider who has the infrastructure to also give you personalised VIP service, regardless of your shipment volumes. It's important that you are not faced with dealing with a nameless person in a 'call centre' when it comes to asking questions about your shipment or getting the best value for your business.
Whether you're a start-up or seasoned seller, you want to have a logistics expert acting as your key account business partner – who understands and shares your business goals. Someone you can count on, who will not only meet your needs, but also understand, anticipate and exceed them.
Use an online shipping calculator for International Sales
One great advantage of having an eBay store is that your listings can be viewed by an international audience. Selling your items internationally can dramatically increase your sales and profits, but it's often dependent on making sure you have the right courier service partner.
Choose a courier service that makes it easier to ship parcels overseas to your customers quickly at very competitive prices. A big advantage also is to have a courier company that can provide you with access to an online shipping calculator that can be added to your eBay listing. This can give your customers access to instant and accurate parcel delivery prices, based on the country they live in – and save you time in responding to customer enquiries on parcel shipping quotes.
Ideally, the shipping calculator should provide your customer with two to three different international delivery options based on delivery time and price, giving customers more choice and helping you convert more sales.
Track and trace options
Customers are demanding more visibility on the status of their order and want to know exactly when they can expect their goods to arrive. By offering tracking and delivery confirmation information to your buyers you can substantially improve the customer experience. Your courier service should offer you multiple track and trace options to help you manage the expectations of your eBay customers and give you peace of mind knowing when your item is delivered safe and sound.
The best way to get ahead in today's competitive environment is to continually surprise and delight your customers. Your logistics strategy should enable you to consistently deliver promised outcomes to customers by enhancing all aspects of the supply chain, improving transparency and delivery times while also reducing costs.
eBay stores that can leverage their logistics services to drive growth – and do so profitably – will come out on top at the end of the day.