Delivery management is the last stage of order fulfilment. By extension, it is also the last stage of supply chain management. It is intricately linked to both sales and customer experience. Long delivery lead times can cause you to lose customers. And delivery delays can cause poor customer experience. 
41% of eCommerce consumers blame the retailer for shipping delays. Additionally, 32% of consumers also say that shipping delays are one of the biggest problems with eCommerce purchases.
With efficient delivery management, you can resolve several sales, operations, and customer experience issues. But, before we get into problems and solutions let us first define delivery management.
What is Delivery Management?
Delivery management is the process by which goods get delivered to a destination. It involves planning, coordination, transportation, tracking, and delivery. An efficient delivery management process streamlines the logistics operations to reduce the cost and delivery lead time.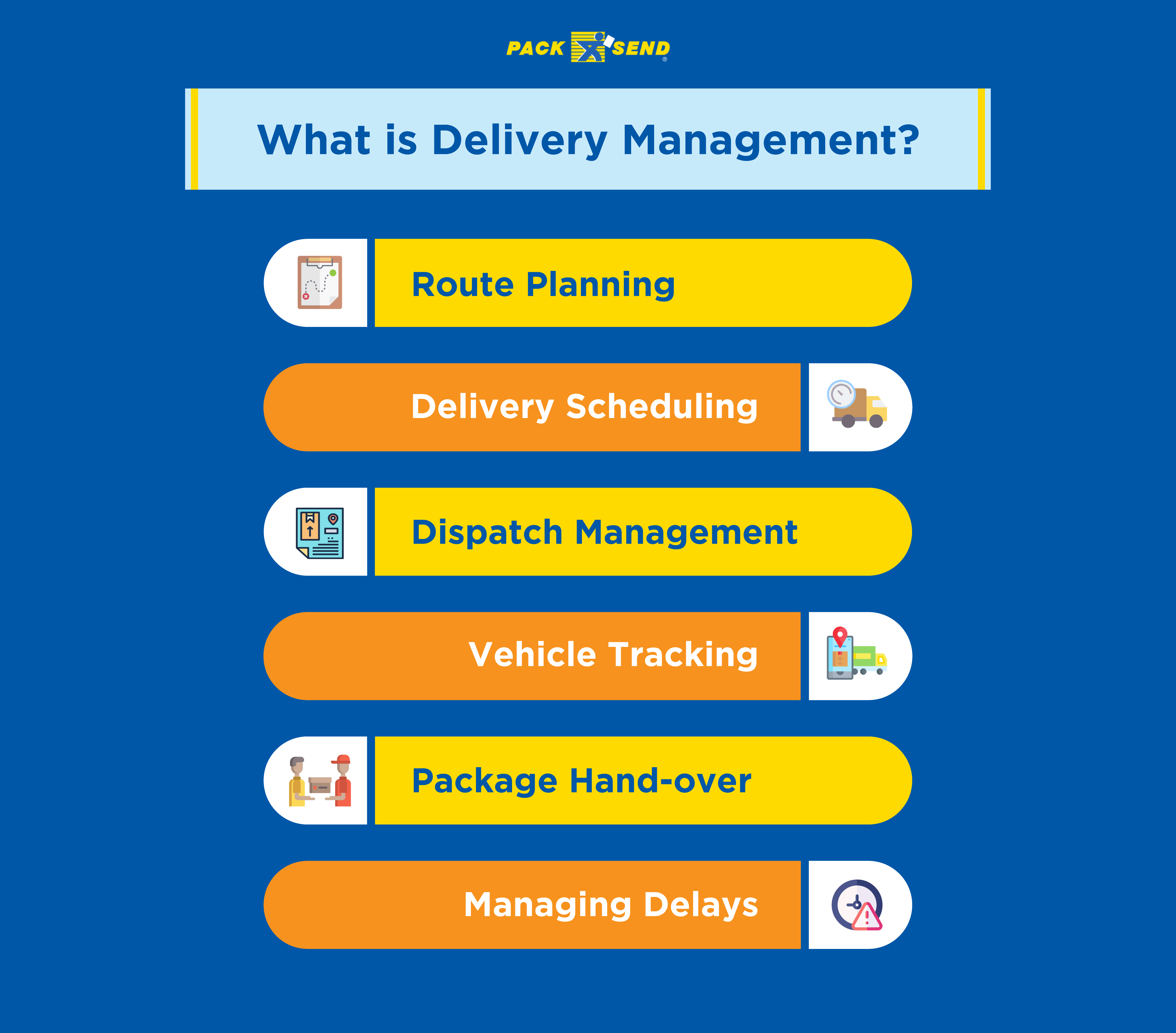 Delivery management covers the entire journey of a product from the seller to the customer. This process has a direct impact on a company's operations and customer service.
With efficient delivery management, you can control the cost of order fulfilment and delivery lead time. These two factors impact product pricing, operational expenses, sales, and customer service.
Types of Delivery Management Systems
Regardless of the size of operations, all companies use one or more of the following delivery management systems.
1. Point-to-Point Delivery System
In this method, you load the goods on a transport vehicle and directly deliver them to the destination. This is the most common model for last-mile delivery. You can also consider this as one cycle of delivery. But, this model is challenging to manage over long distances.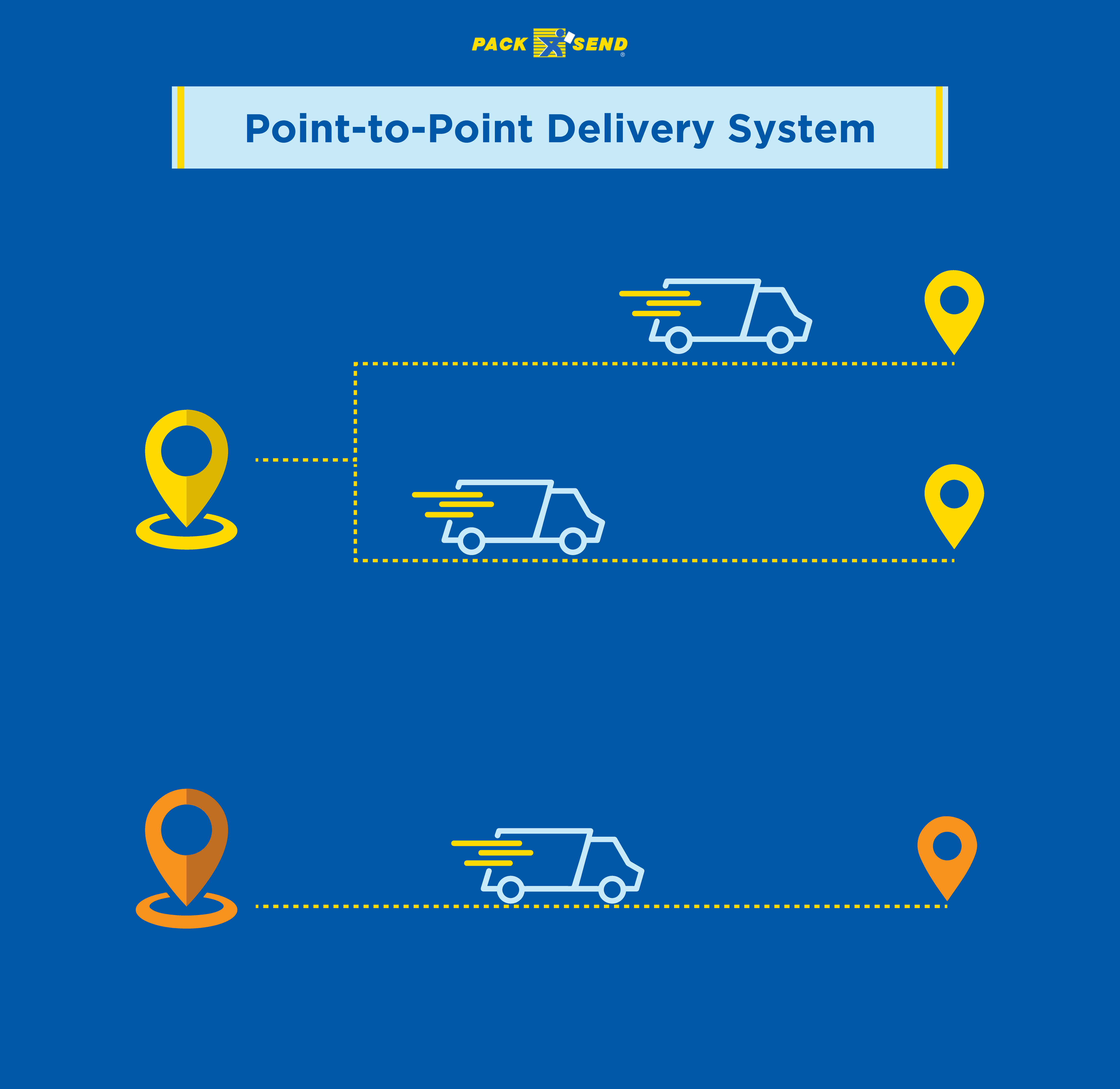 2. Hub and Spoke Delivery System
In this method, the products are first delivered to a micro-fulfilment centre. Then you separate the products into batches. Then you deliver each separately delivered using a point-to-point system. This model is useful for inter-city and international deliveries.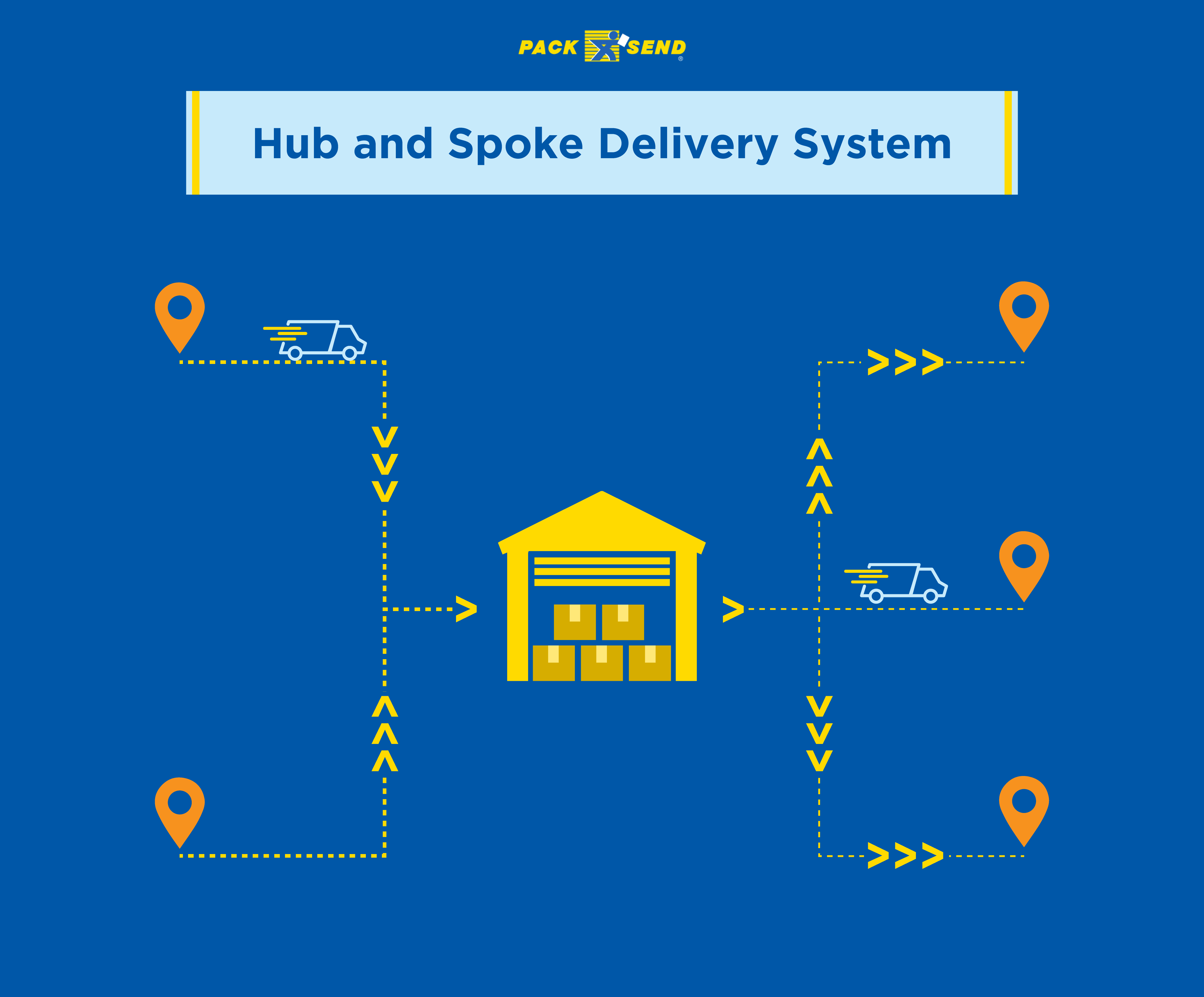 3. Cross Dock Delivery System
This system is similar to the Hub and Spoke system with one key difference. Here the products are not stored in between delivery cycles. They are unloaded from one vehicle and onto another.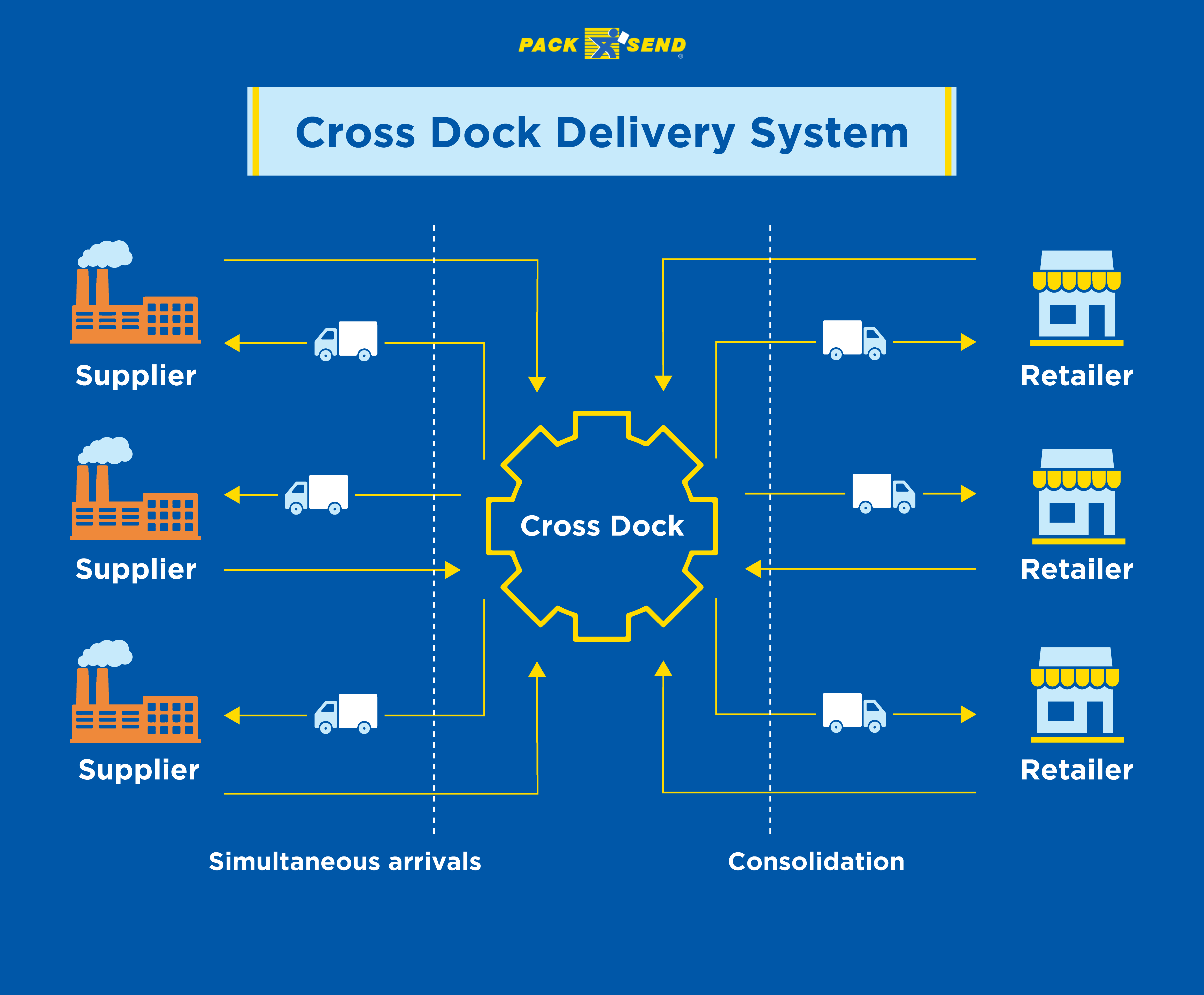 4. 3PL Delivery System
In this method, you outsource the entire delivery management operations to a third-party logistics company. You only have to worry about providing the order details to the 3PL company. Then they pick up and deliver the products to your customers. They may use one or more delivery systems to execute this. But, you only have to pay for point-to-point delivery.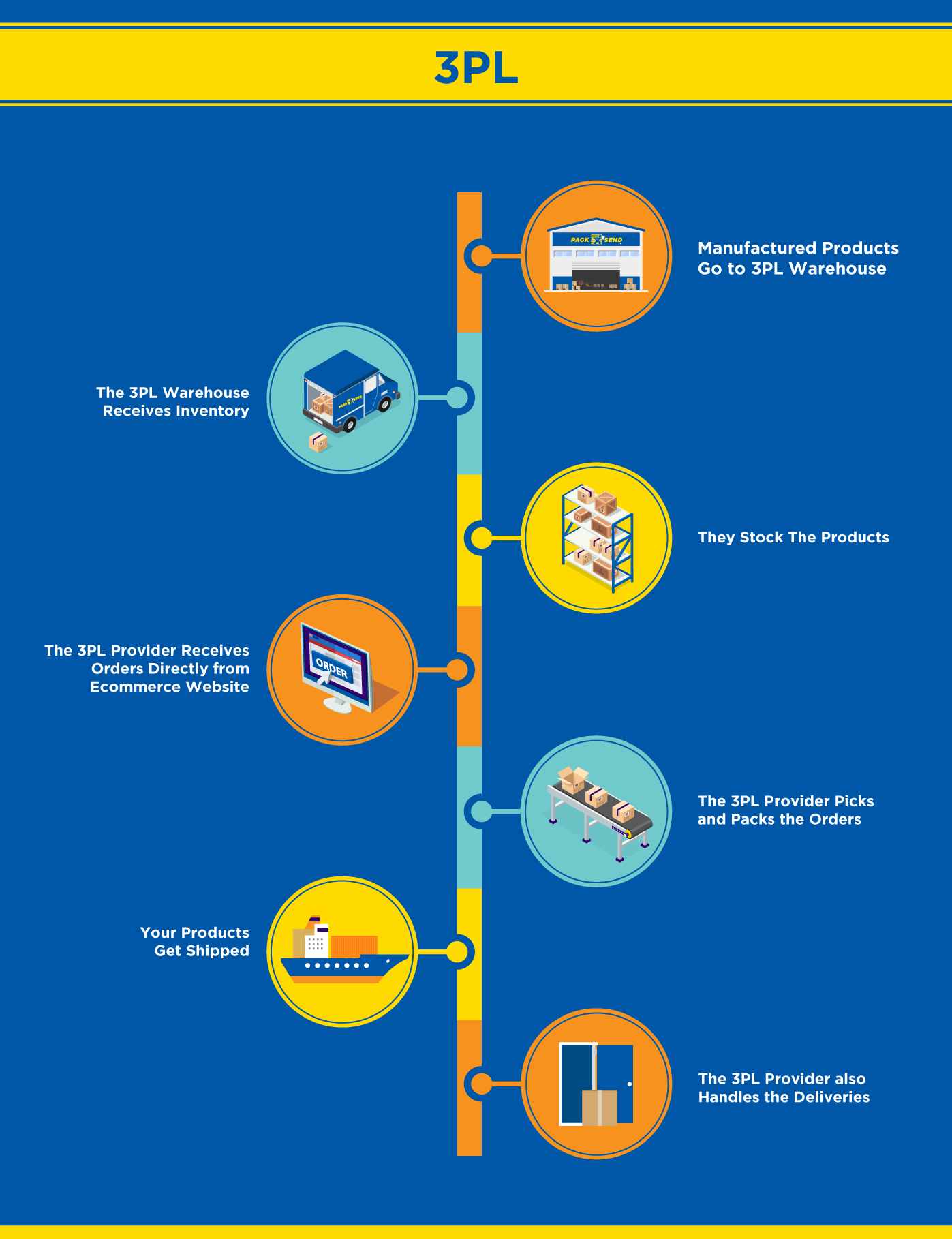 Some 3PL solutions also offer storage and inventory management as well. This is the most flexible delivery management solution as you are not restrained by owned resources.
Difference Between Domestic & International Delivery Management
There are 3 key differences between international and domestic delivery management. These are distance, mode of transport, and international customs clearance.
Domestic delivery management usually involves one or two delivery cycles. It can be intra-city, intercity or inter-state. The maximum extent of domestic delivery would be between two cities on opposite ends of a country.
International delivery management involves several delivery cycles in different modes of transport. These include ocean freight, air freight, and road transport. Furthermore, international delivery management also involves customs clearance. You have to clear customs to export products from the seller's country. Then again, to import products into the buyer's country. All these factors make international delivery management more complex than domestic delivery.
Logistics companies use delivery management software to simplify the process for both domestic and international transportation.
What is a Delivery Management Software?
Delivery management software is a platform that helps you plan, coordinate, track, and control deliveries. These platforms can help you streamline the entire process.
The majority of delivery management platforms offer complete visibility over the entire process. These tools also help you plan routes and delivery lead time. Some advanced delivery management tools also allow you to automate the delivery process.
Important Features of a Delivery Management Software
There are many delivery management platforms in the market. You need to pick the one that best suits your business needs. Here are some features you should look for in delivery management software:
Route planning - The software should allow you to plan delivery routes for multiple vehicles.
Route optimisation - The software should help you find the best routes for multiple deliveries. This output should be based on the destinations, traffic conditions, and delivery schedule.
Estimated Time of Arrival (ETA) - The software should generate an accurate ETA. It should also update ETA in real time based on changes in the delivery schedule.
Dispatch management - The software should allow you to share dispatch-related information with all parties involved. This includes warehouse, packaging, and transport teams.
Vehicle management - The software should allow you to manage multiple vehicles simultaneously. You should be able to share distinct dispatch schedules with each vehicle.
Communication - The software should have a two-way communication channel. This channel should have automated notifications for important information.
Driver version - The delivery management app should have a user-friendly interface for the drivers. This interface should support them with maps, route directions, package identification, communication, and proof of delivery.
Real-time tracking - You should be able to track the progress of all deliveries in one place. The software should also give you the real-time GPS location of the vehicles.
Tracking options for customers - The customers should also be able to track their packages in real-time. 
Automated notifications - The software should automatically send notifications to you and the customers about the delivery status. It should also send alerts in case of delays.
Reporting tools - You should be able to generate detailed reports and analytics about delivery management. This will help you identify areas for cost reduction and improving delivery lead time.
Customisations - You will need to customise some aspects of the delivery management system. This includes dispatch information, proof of delivery, customer notifications, etc. Find software that lets you make changes as per your requirements.
Automation features - The software should allow you to automate certain tasks such as dispatch management, customer notifications, alerts for delays, etc.
Integration options - You should be able to integrate the software with other platforms. These would include POS, eCommerce platforms, inventory management, and CRM. This will help you create a smooth transition of information between different systems.
It is important to note that some of the delivery management tools are only designed for certain regions. So you need to check how the software performs in your area of operation. For example, if you want to manage domestic deliveries from Sydney. Then you need delivery management software for Australia.
Benefits of a Streamlined Delivery Management System
These features can help you improve your delivery management process in many ways. Below are a few significant benefits of using a delivery management solution.
Visibility
A lot of delivery operations take place remotely. Once the vehicles leave the premises, it is difficult to control the process. An efficient delivery management system compensates for this lack of visibility.
The software allows you to track vehicles in real-time. It also updates you regarding the status of each delivery. Certain delivery management tools can inform you if the vehicle deviates from the designated route. It can also update you if the vehicle makes unnecessary stops on the route. This visibility is crucial for ensuring compliance from all parties involved. 
Operational Efficiency
Delivery management solutions link POS with the delivery process. The software can extract details about the delivery and provide them to relevant parties. This eliminates the possibility of human error in communication.
The drivers get accurate dispatch information. The delivery management app can also find the best routes to reach different destinations. Some platforms also have automated notifications for important delivery milestones. All these features help improve the efficiency of the process.
Data Analysis
Delivery management platforms can automatically calculate the delivery lead time. Based on this, you can notify the customers about the ETA. Delivery management software also generates reports on several performance metrics.
You can get information about each vehicle's performance. The software can tell you about completed, delayed, and missed deliveries. The delivery management platform can also generate route summaries. This information helps you plan future logistics.
You can look for overloads based on routes and geographical clusters. The data also helps you find room for improvement and cost reduction. 
Cost Reduction
Efficient delivery management can help you cut down expenses in several operations. According to Insider Intelligence Report, last-mile delivery accounts for 53% of the total shipping cost.
Route planning and optimisation features can help you cut down the distance travelled by the vehicle. This helps you save money on fuel. In the long run, it also helps you reduce your vehicle's maintenance expenses.
Instead of individual locations, the delivery management app designs routes based on geographical clusters. So each vehicle can make more deliveries on less fuel. This means that you can reduce the cost per delivery.
Damage Control
With vehicle tracking and automated notifications, you get important information early. This gives you time to do some damage control if needed. For instance, say one vehicle is falling behind in deliveries. You can assign another vehicle to that route to complete the project.
The delivery management apps can also help you find alternate routes in case the assigned route gets congested. Additionally, these platforms can automatically send notifications to customers about delays. This exchange of information is crucial for a positive customer experience.
Improve Customer Experience
Timely delivery is one of the most crucial aspects of the eCommerce customer experience. Delivery management ensures that customers get their packages on time. This aspect of supply chain management affects sales as well.
Long-delivery time is one of the most common reasons for cart abandonment. 32% of online shoppers will abandon carts owing to the long delivery times. Efficient delivery management systems can help you cut down the delivery time. This can have a positive impact on sales.
A delivery management app also helps you when things go wrong. In case of delivery exceptions, the software can automatically notify the customers. Such transparency can help build trust between the customers and the brand.
Finally, the delivery management platform helps you collect proof of delivery more easily. You can also use this contact point to collect customer feedback. Such surveys can inform your future decisions for creating a better customer experience.
The 7 Pillars of Delivery Management
Delivery management software can enhance your operations. But you need to understand the fundamentals of the process to get the best output from the platform. Below are the seven pillars that govern the delivery management process. 
1. Packaging
Product packaging is essential for efficient delivery management. It is the precursor to the delivery process in supply chain management. This stage involves packing the products and organising the courier. Efficiency at this stage can significantly reduce the delivery lead time.
The packaging needs to be robust enough to withstand shocks during transport. But, it should not unnecessarily increase the volumetric weight of the courier. You also need to keep the route and destination in mind when packaging the products.
For example, if you are sending products for cargo. Then you can bundle the products in a pallet. But, if you are sending them for last-mile delivery. You need to pack the products individually for each customer.
The next important factor to consider is courier organisation. This is especially important for last-mile delivery management. You need to label all packages and organise the courier based on the delivery route. This would help the freight handler to fetch the right products faster.
2. Route Planning
If you are handling hundreds or thousands of deliveries a day, route planning can affect the cost of operations and delivery lead time. You need to consider several factors to plan routes for delivery management. These factors include geographical location, mode of transport, and package size.
The most important factor is the geographical location of the destination. This alone determines all the other aspects of route planning. You need different delivery management strategies for intra-city, intercity, domestic and international deliveries.
One of the most efficient ways to plan routes is by clustering the destinations based on proximity. So you only have to plan the route for a geographical cluster instead of each delivery. Then you use the nearest order fulfilment centre to facilitate the deliveries to these places.
This may sound simple, but the logistics become complex as the distance increases. It gets even more complex for international deliveries. You will plan routes for multiple delivery cycles. Each cycle might have a different mode of transport. Moreover, each cycle would take place in a different country.
Fortunately, you do not have to do all this manually. Delivery management software can automatically plan the most efficient routes for you. You only need to input the origin and the destination. If the delivery management tool is integrated with your POS, you don't have to worry about the input either.
3. Delivery Schedule
Planning a delivery schedule usually runs hand-in-hand with route planning. At this stage, you need to fill the gap between the delivery lead time and the committed delivery time.
For example, if you have committed delivery in Sydney on Friday and your estimated delivery lead time is 3 days. Then you need to schedule dispatch before Tuesday.
The delivery schedule heavily depends on the type of logistics service you are using. You will have much more control if you are using your own fleet of vehicles. But this model is quite resource intensive, especially for long-distance deliveries.
Most companies use gig-economy services, independent contractors or third-party logistics for order fulfilment. Many delivery management systems allow you to manage different models simultaneously.
The delivery management platform will set the schedule for different deliveries. Despite the efficiency of automated scheduling, there are a few things you need to consider for efficiency.
You need to allow time for packaging, loading, and unloading products. You also need to factor in possible delays during the journey. These factors multiply if the delivery involves multiple cycles. For international deliveries, you also need to incorporate the duration of customs clearance in your delivery schedule.
But, if you are using third-party logistics software you don't have to worry about any of these. You only need to integrate this delivery management software with your eCommerce platform. The carrier will do the rest.
4. Dispatch Management 
This stage is the culmination of the previous three stages. Dispatch management includes two processes. The first process is loading the package into the transport vehicle. This also involves courier organisation based on the delivery schedule. 
The second process is informing the driver about the delivery requirements for different packages. These would include a planned route, delivery schedule, handling requirements, and proof of delivery. 
You can optimise this process with delivery management software. This platform serves as the communication channel between the manager and the driver. The driver receives all the details through the delivery management app. They can also check the route on the delivery management app. Dispatch management is complete when the vehicles leave the order fulfilment centre.
5. Delivery Tracking
You need to track your deliveries to ensure that they are on schedule. There are several ways to track the delivery status. You can use a platform with a location-sharing feature to track the transport vehicles. Such features are available in most delivery management platforms. You can also use Google Maps for this purpose.
You can also install GPS trackers on the vehicles if you are using your own transport fleet. Tracking the vehicles allows you to control some crucial aspects of the delivery management process. 
It gives you the opportunity for course correction if there are delays. You also get the time to inform the customers about changes in the delivery schedule.
6. Customer Communication
You should always keep the customer informed about the changes in the delivery schedule. Lack of information can lead to dissatisfaction among customers. It can considerably harm a brand's reputation. 
You should share timely updates about the delivery with your customers. Especially if there are expected delays. Some courier delivery management systems also allow you to share delivery tracking information directly with the customers. 
According to the Last Mile Delivery Survey, 96% of customers said that they would like GPS tracking of their packages. This would improve the trust between the customer and the brand. 
You can also automate the customer communication aspect using delivery management tools. You can set criteria for customer communication based on delivery milestones. These include packaged, dispatched, on-the-way, and delivered. The software can directly send emails or messages to the customers as each milestone is complete.
You also need to set provisions for delays. Inform the customer about the impending delay as early as possible. Then you can tell them about the change in delivery schedule and the ETA. In such cases, personal communication is better than automated messages.
7. Proof of Delivery
Delivery management is complete when the customer receives the product. But, there is one last step before that. You need to collect proof of delivery (PoD) from the customer. It is evidence that the customer has received the product in proper condition. 
This document can be paper or digital. In either case, you need to get the customer's signature on this document. It is proof that the delivery personnel have completed their job. The PoD document protects the interests of all parties involved. It helps prevent disputes and fraud over delivery.
Fortunately, you will get this feature with most courier delivery management systems. You can customise the PoD document as required. These include customer signature, OTP authentication, parcel image, and so on. Whichever criteria you choose should serve as conclusive evidence of the delivery. Some delivery management tools also let you get customer feedback alongside PoD.
Tips to Improve Delivery Management
Once you have designed a basic delivery management process, you can identify areas for improvement. Here are 5 ways to make your delivery management more efficient.
Find the Right Delivery Management Solution
The right delivery management software can significantly improve the efficiency of your operations. You need three important criteria to pick the right delivery management app. 
First, you need to check the available features. These features should support your delivery management model. For instance, if you are managing your own fleet of vehicles. Then you need features that provide visibility over the vehicles and automate dispatch management.
Second, you need to consider the performance of the software in a region. Most platforms use machine learning for route optimisation. So delivery management software used in Australia will be better optimised for order fulfilment in that country. You should choose a delivery management solution that has a significant presence in your delivery region.
Third, you need to consider customer support. You might face errors or issues when using a digital platform. In such cases, you will depend on the platform's customer support for solutions. Check the online reviews to see whether your chosen software provides adequate customer support.
Improve Warehouse Management
Delivery management is an integral part of order fulfilment and supply chain management. Each aspect is intricately linked to other processes. Warehouse management and packaging are the precursors to delivery management. They are essential for dispatching delivery vehicles on time.
Efficient warehouse management ensures that the packages are properly labelled and packaged for delivery. This ensures that the packages are loaded into the delivery vehicle faster. Furthermore, efficient courier organisation ensures that the delivery personnel can fetch the parcels faster when they reach the destination.
You need to define clear SOPs for warehouse management. These should include protocols for packing, labelling and organising. You can use the assembly line model to improve the efficiency of these processes. It should start with picking the products from the warehouse and end with the courier organisation in the delivery vehicle.
Use Data Analytics for Improvement
Delivery management software can generate reports on several metrics. You can use insights from these reports to find problem areas. For instance, you identify causes for delivery exceptions based on driver performance and geographical clusters. You can reallocate your resources based on this information.
You can use existing data to find better routes to reach certain regions. You can also use this information to optimise your delivery schedules. For instance, if a route gets congested between 9 and 11 in the morning. Then you can use alternate routes for deliveries during that period. You can also schedule dispatch earlier to avoid congestion.
You can also use insights from demand forecast reports to improve delivery management. This will help you prepare additional resources to face higher demand. For example, if you expect higher demand from Sydney during the holiday season. Then you can hire additional drivers or 3PL services to meet the demand.
Data can provide a lot of information. But you need to draw insights from the data and take action to improve your delivery management system.
Use Automation to Make Things Easy
Delivery management platforms come with several automation tools. These can help you reduce manual labour. The software can automatically arrange delivery locations into geographical clusters. It can also find the best routes to reach these locations.
You can further automate the process by integrating delivery management tools with other software. These include POS, inventory management and CRM. This allows the delivery management solution to extract important information without human intervention.
The software can gather dispatch information from other software. This will save you the time of inputting information such as order details, delivery location, label requirements, etc. This information is automatically communicated to the driver. Automation reduces the margin of error and improves efficiency.
Invest in the Right Resources
Delivery management is highly dependent on the available resources. These resources determine the number of deliveries you can handle in a day. So it is important to invest in the right resources early on. 
The resources for delivery management include labour, vehicles, order fulfilment centres, and 3PL delivery management solutions. You need resources that can help you manage the current delivery volume. At the same time, they should be flexible enough to manage unexpected rises in demand.
As your business grows, you will need to improve the efficiency of your existing resources and invest in the ones that can support your company's future. 
For instance, if you are a company in Germany targeting new customers in Sydney. Then you need to invest in warehouse facilities to store your products until order fulfilment. Or you can use an Australian 3PL partner that can handle international shipping from Germany and domestic delivery management in Sydney.
Conclusion
The end goal of delivery management remains the same for businesses of all sizes. Whether you are a boutique store or a multinational organisation, you need to deliver the right products to the right destination on time.
Though it sounds simple, delivery management is a complex phenomenon. It depends on various internal and external factors. Fortunately, you can use delivery management solutions to make your job easier.
It is important to remember that delivery management also requires investment in logistical resources. If that sounds like an enormous burden, you can use PACK & SEND Live for order fulfilment. This delivery management software integrates with your eCommerce platform. Then we can take care of the entire process for you.