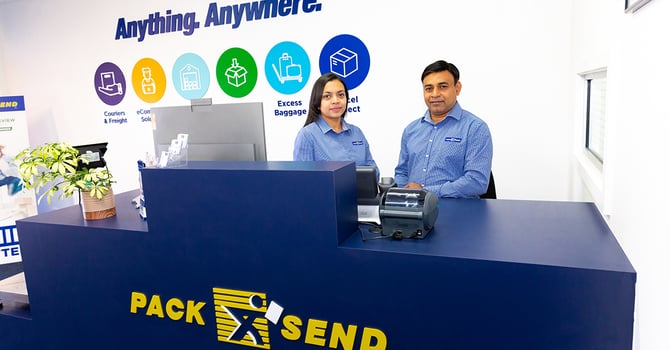 As the world strives to overcome the coronavirus pandemic and settle into what can only be described as the 'new normal', PACK & SEND have been navigating a new process – how to onboard new franchisees in these very different circumstances.
Unlike many businesses during COVID, PACK & SEND is currently experiencing record sales growth as businesses continue to pivot to online sales channels to sell their product and thus are sending more parcels and freight. The resilience of the business model in a tough economic climate has meant that new franchisees continue to join the brand each month, even during a pandemic.
PACK & SEND CEO & Founder Michael Paul said that its diversified income streams through multiple sales channels (visit, call, online), its investments in shipping technology platforms and its wide range of services had served franchisees extremely well during COVID. "Our customer leads are at an all-time high, and parcel delivery sales through our ecommerce shipping technology platforms have increased by as much as 147% in some months" said Paul.
"However, with the strong demand for the purchase of new franchise territories, it was clear that with COVID travel restrictions, that our Sydney-based support office would need to adapt the delivery of our initial four week induction training program for new franchisees. Traditional face-to-face training had to be replaced using technology such as zoom video calls" said Paul.
Whilst PACK & SEND's 2 weeks classroom training was easy to migrate to live video tutoring, the 2 weeks practical in-store training had to be overcome. Utilising the assistance of an experienced locally based franchisee for this training program was not an option as PACK & SEND sales were so strong, no franchisee could afford to be away from their own business.
New franchisees Nishat Sharman & Muhammed Rahman opened their new Service Centre in Chermside, Queensland in early May 2020. "We started trading on 11th May 2020. Initially we were thinking to delay the opening but decided to take the challenge as sending parcels nationally and internationally is vital due to the restrictions on travel" Nishat said.
In the first week of opening – franchisees would normally be accompanied by their Field Support Manager for a week of onsite training. This meant practical onsite training would need to be done virtually.
"From our first day of trading, we received virtual training from our Field Support Manager, Ricky Vrahnos since he was unable to travel interstate. It was challenging but he supported us in every possible way via video call, phone call and email" Nishat says.
Nishat and Muhammed had started the research phase of their business quite a while before the pandemic had started. However, the final decision was made when the pandemic had started to become more apparent in Australia. We spoke to Nishat and Muhammed to find out what helped them to choose to become a PACK & SEND Franchise and why they chose the PACK & SEND Franchise System over others that they have researched.
Nishat told us – "We were always looking to join a business supported by a proven business model. We chose PACK & SEND for the brand reputation, solid structure, multi-channel business model and numerous lead sources to bring customers to the business."
"We have been involved in retail business (fuel industry) since 2008, being a customer focused business, we were looking for something similar." Nishat Says
"From a business perspective PACK & SEND's business model stood out most for us. The business is not only customer focused but also designed to service the fastest growing market in today's world of online shopping." Nishat said she also believes the idea of being a one stop shop for all freight solutions with "No Limits" is a great concept.
Having a long tenure in a customer focused business has certainly paid off for Nishat and Muhammed setting a first month sales record for any PACK & SEND franchisee in the brands 26 year history – an achievement accomplished during COVID-19! We asked Nishat what she attributed their success to, "I believe customer satisfaction is the most important aspect of our business. Being the first point of contact for the customer and being able to service them with their delivery needs on time during the current situation with COVID-19 helped us to achieve the record."
Nishat says the most rewarding part of the business so far has been receiving 5-star reviews and happy calls from their customers – "It's the best part of the day!"
After a fantastic start to their PACK & SEND Franchise journey and in very uncertain circumstances, they have some wisdom to pass on to other prospective franchisees, "When investing in a franchise business you should look for a proven brand and solid business model that gives an advantage to compete and grow."
Nishat continues, "In today's growing market of freight needs, with professional packaging services - it is a great opportunity to join PACK & SEND where prospective franchisees will have access to a multi-channel business model, resources, technology and support".
PACK & SEND is growing fast, with franchise territories in high demand and being granted during COVID, including a current multi-unit franchise owner acquiring its third franchise in July.
If you would like to find out more about PACK & SEND franchise opportunities, please visit: https://www.packsend.com.au/own-a-franchise/