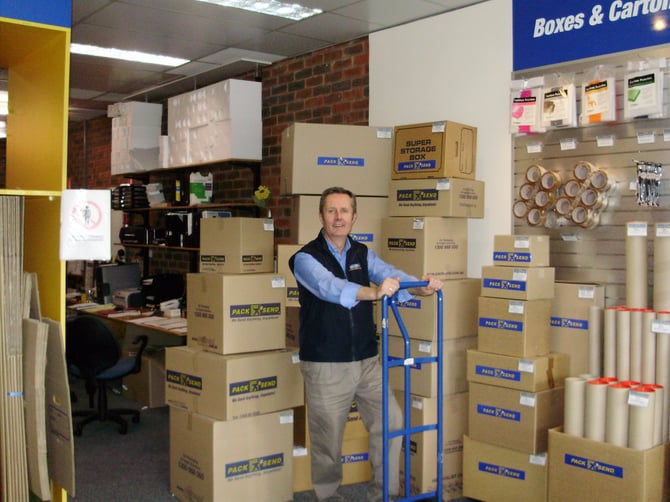 For some, starting out as a new franchise owner can be a somewhat daunting process. However, if equipped with the right tools, knowledge and franchisor support, setting up your own franchise can be a smooth and rewarding experience.
PACK & SEND franchisee Cameron Swale opened his Boronia store eight years ago and hasn't looked back since. In this article, Cameron shares some firsthand insights into the life of a PACK & SEND business owner.

Why did you decide to buy a franchise?
I had some key experience in service marketing and a small amount of knowledge on the distribution industry, so it seemed like a logical step. I admit that the initial prospect of opening a business as a sole operator was at first incredibly daunting, but ultimately my desire to have my own business was too exciting to shake off. Just the idea of being my own boss was so liberating!
How did PACK & SEND's training helped you start out your business?
The ready-to-go framework and Head Office support in the initial stages of opening my business enabled me to slip seamlessly in to my new role as a store manager. The support and training provided by PACK & SEND at the beginning and on an ongoing basis has been invaluable in developing my business. The vast range of training available, the access to an online operations manual and regular regional/national group franchisee meetings have all contributed to allowing me to successfully operate an effective business.
How would you describe an average day running your business?
No two days are the same at PACK & SEND, which is a good thing! I have various responsibilities, from collecting packages and monitoring package conditions, to helping customers with their queries and quotes, and of course managing the books, staff and local marketing to name a few. But that's what I like – the variety was one of the factors which attracted me to PACK & SEND in the first place.
Have you noticed many differences to your lifestyle since joining PACK & SEND?
Definitely! Well, for one, I now run a thriving business! But for me, there is nothing more rewarding than working for myself. I now make sure I have plenty of time for my family and myself. I'm also a lot more active in my local community as a result of promoting my PACK & SEND Service Centre, which is so rewarding.
Like Cameron's story? You too can own your own PACK & SEND franchise!
Find out more here: https://www.packsend.com.au/own-a-franchise/
Hear what other Franchisees have to say: https://www.linkedin.com/company/3547039/life/