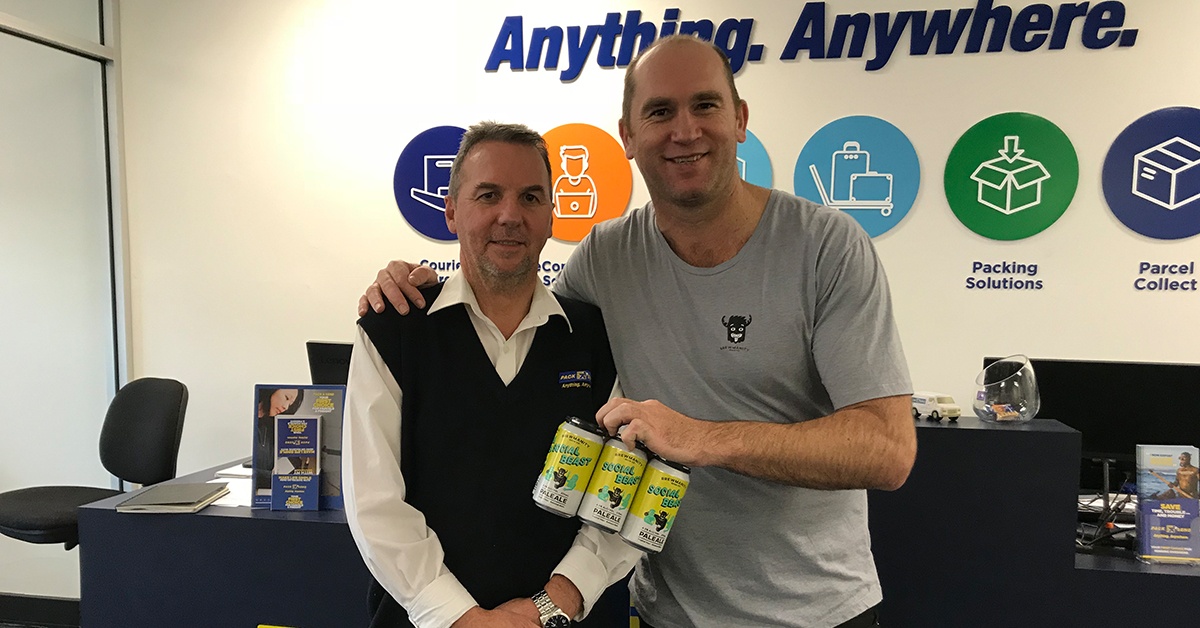 The PACK & SEND Moorabbin Service Centre were visited by a Melbourne sporting icon last week when David "Neita" Neitz – full forward and the longest serving captain for the Melbourne Demons dropped in for a special job.
Neita needed help sending promotional items for his Social Beast beer which is helping raise funds in the effort to find a cure for Motor Neuron Disease (MND). His company, Brewmanity Beer Co, are well known for craft beer and creating Victoria's most charitable happy hour by supporting causes which help those in need.
Since co-founding his company, Neita and his team have taken a novel approach to doing good, combining their love for beer with charity. Their latest cause came about when a close friend was affected by MND and they decided to combine their love for beer with helping a mate. By donating some of the proceeds from every beer they sell, Neita and Brewmanity aim to make every beer do a little good in the world.
According to Neita, they champion good beer, celebrate the good things in life, and always give back by donating to Fight MND. They have raised significant awareness and more than $150,000 for the Cure for MND Foundation.
Greg and Danielle at the PACK & SEND Moorabbin Service Centre were thrilled to assist Neita, expertly packing and transporting his famous Social Beast beer to an influencer in Victoria to help raise more awareness for the MND cause.
PACK & SEND were honoured to meet you, David, and we wish you all the best in your efforts to tackle Motor Neuron Disease.
To find out more about MND or get involved, visit:
https://fightmnd.org.au/